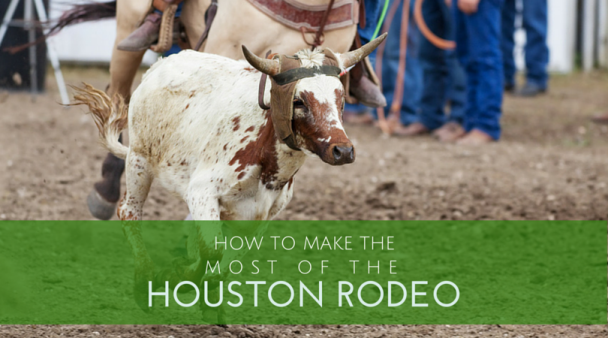 Yee-haw! It's time for the annual Houston Livestock Show and Rodeo, and we couldn't be more excited! This is one of the biggest rodeos in the country with nearly three weeks of entertainment for everyone in the family. Whether this is your first time going or you'd like a quick recap, we have all the rodeo information you need right here.
The Essential Houston Rodeo Info
Here are the bare bone, must-know details for the 2015 Houston Rodeo.
When: March 3-22, 2015
Where: NGR Stadium
Reliant Parkway
Houston, TX 77054
Time: Rodeo shows start at 6:45pm on weekdays and 3:45pm on weekends.
NGR Park is open from 8am to 9pm daily.
Tickets: General admission into the park is $10 a day for adults and $5 for kids ages 3-12. Separate tickets must be purchased for entry into the stadium for rodeo events and musical performances as well as special events throughout the rodeo.
Rodeo Events That Will Rope You In
Just about every type of rodeo event imaginable is happening in Houston. Hundreds of top athletes from around the world will be in town to try and take home a piece of the $2 million in cash prizes that will be awarded. The rodeo events include:
· Tie-Down Roping
· Bareback Riding
· Team Roping
· Saddle Bronc Riding
· Steer Wrestling
· Barrel Racing
· Chuck Wagon Racing
· The Kids Calf Scramble
· Mutton Bustin'
· Bull Riding
If you can't make it to one of the events, don't sweat it! Fox Sports Southwest will be covering all of the action.
Don't Miss the Huge Musical Acts
There is no shortage of serious musical talent at this year's rodeo. Every night there is a new performance with the genres ranging from today's biggest country acts to rock to Tejano. This year's performers include:
Eric Church – March 3
Hunter Hayes – March 4
Miranda Lambert – March 5
John Legend – March 6
Alan Jackson – March 7
Fall Out Boy – March 8
Justin Moore – March 9
Tim McGraw – March 10
Brantley Gilbert – March 11
Zac Brown Band – March 12
Pitbull – March 13
Billy Burrington – March 14
La Arrolladora Banda El Limon – March 15
La Maquinaria Nortena – March 15
Dierks Bentley – March 16
Ariana Grande – March 17
Florida Georgia Line – March 18
Blake Shelton – March 19
The Band Perry – March 20
Brad Paisley – March 21
Luke Bryan – March 22
You will need to buy tickets for each individual day that you want to attend. Tickets include the rodeo events and musical performances after the bulls are done kicking.
Noteworthy Activities Worth Checking Out
There's a reason the Houston Rodeo lasts a full 20 days – there's so much to see and do! Here are our picks for the top activities worth checking out.
Shopping – Get new décor for your home or office at the Western Shopping Mall. Hundreds of vendors will be set up all around the NGR Park, stadium, center and arena. From gourmet food for you kitchen to artwork for your walls, plenty of great buys can be found at the rodeo!
Carnival – Kids and adults can have loads of fun at the carnival. Take a ride on the largest portable Ferris Wheel in the western hemisphere, sightsee on the 1,700 foot gondola or indulge in delicious carnival food. If you want to save a few bucks, visit the Carnival on Wednesdays when there are $2 specials on games, rides and food.
AGVenture – Everything agriculture can be found in the AGVenture area of the NRG Center. Kids and adults can get hands-on with farm animals, watch honeybees at work, practice milking, learn about rainwater collection and much more.
Need to move in Houston during the month of March? Let Square Cow Movers take care of the moving so you can enjoy the rodeo! Use our online form to get an instant moving quote.
Original source: https://squarecowmovers.com/how-to-make-the-most-of-the-houston-rodeo/