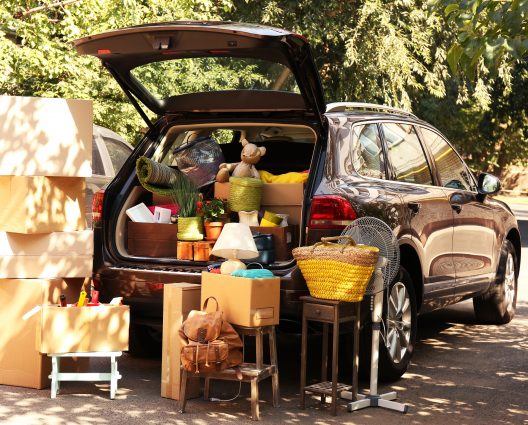 One of the perks of using a professional mover is taking advantage of their expert packing services and big, shiny moving truck. But even if you hire professional movers, there's a good chance you'll still end up packing a few boxes and random items in your own vehicle. In fact, some items, like medical records and your first night box, should stay with you instead of being put on the moving truck.
It's best to put some thought to your car packing strategy at least a few days before your move. To get you started, we've put together a list of our top car packing tips that work for short and long-distance moves.
Car Packing Tip #1 – Clean Out Your Car
The logic is pretty straightforward. If there's less junk in your car (let's be honest, it can build up) then there's more room for packing. The first thing you'll want to do is give the inside of your car a good cleaning. Don't forget to clear out the trunk!
Car Packing Tip #2 – Plan It Out Before You Start Packing It In
The worst thing you could do is just start shoving boxes and items into your car without thinking about where everything is going. That strategy is guaranteed to waste valuable space and probably lead to something getting broken.
Begin by creating a list of the things, people and/or pets you know you'll need to transport in your vehicle. From there you can prioritize the space and decide where each thing will go. Now is the time to give your car a good once over and note all the small spaces where things can go – like under the seats. That way if there are any space issues you'll know ahead of time and can plan accordingly.
Car Packing Tip #3 – Don't Sacrifice Visibility
We've all come across a car at some point that was packed so full with stuff there's no way to see out the windows. Basically the driver can only see out of the front window and has to rely on their mirrors for everything else. While this isn't a big deal for professional truck drivers, it could pose a dangerous problem for everyone else.
Always keep things below the headrests so you keep your lines of visibility open. The last thing you want on moving day is to get into a car accident. Even a small fender bender will derail the process and will most likely destroy whatever breakables were packed in the car.
Car Packing Tip #4 – Consider an Overhead Carrier If You Need Extra Space
An overhead carrier that hooks on to the roof of your car can add a significant amount of extra packing space. It could be a good investment if you're moving across country and know you'll have to stop overnight along the way. Plus, it will give you extra cargo space on future road trips.
Car Packing Tip #5 – Save Space With Bags and Small Boxes
Save the big boxes for the moving truck and focus on packing small boxes or bags in your car. That way you have more options for configuring everything so that it fits together as tightly as possible.
Space saver bags are ideal for car packing since they can be crammed just about anywhere. Garbage bags are another flexible option. Focus on packing things that aren't rigid and don't hold their shape so you have more packing capabilities in a confined space.
Car Packing Tip #6 – Put Heavy Items Up Front and Keep Them Low
One of the most challenging parts of packing a car is getting the weight distribution right so the vehicle handles correctly and drives safely. That's why you'll want to keep the heaviest items on the floor of the car and place them as far forward or centered as you can. Also keep in mind that you'll want to balance the weight on the left and right side of the car.
Car Packing Tip #7 – Secure All Loose Items
If you have to stop suddenly or swerve to avoid an accident, you don't want items flying around the cabin of your car. Make sure all of the loose items are secured before you head out. Put as many things as possible in bags or boxes then use cargo straps and tie downs to anchor everything in place.
Want more packing tips from the moving pros? Then give Square Cow Movers a call! Our moving coordinators will provide personal assistance every step of the way and helpful tips that make moving less stressful. Schedule an in-home estimate or use the online form to receive an instant moving quote!
Original Source: https://squarecowmovers.com/car-packing-tips-moving-pros/