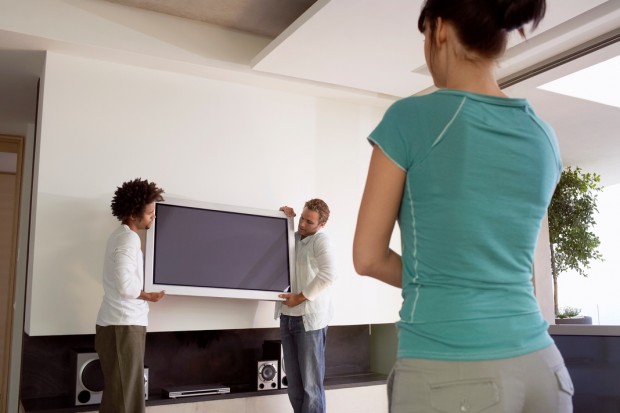 Moving a mounted TV isn't always easy, but a professional moving company the experience needed to handle the job. For instance, Square Cow Movers moves around 50 TVs a day – way more than most people will move in a lifetime.
Reasons to Hire Professional Movers for a Mounted TV
Flat screen mounted TVs are no small investment. While the wall mount typically stays with the home because it's considered a fixture, the TV will still need to be moved. One slip or wrong movement can cost you hundreds of dollars in damage to the TV, mount and/or the wall. That's why our movers take extreme care when handling mounted televisions. Hiring someone to take care of the job for you is a good way to protect your TV investment.
Large, flat screen TVs can also be very cumbersome depending on their size. Over the years the average TV screen size has swelled from 34" in 2002 to 46" in 2012. A study from Sharp Electronics suggests that by 2015 the average will be 60". However, even that's calf-sized in comparison to the whooping 75-80" TVs that are now being made and bought by many homeowners. Professional movers are accustomed to handling items that are oversized, including colossal sized TVs.
Expert movers are also highly organized. There's nothing more frustrating than going to set up an entertainment system only to realize that cords and hardware are missing. Our movers are taught to package everything up together, tie up cords, label things so that they are easy to find and keep the hardware bagged so no pieces are lost.
The type of wall mount you have will also come into play, because a few types of mounts make it a little more difficult to remove the TV. A fixed mount holds the TV flat against the wall and doesn't angle outward, which can make it awkward to move. A ceiling mount is higher up, and as the name suggests you'll have to angle the mount and TV so that the ceiling isn't making the move impossible. If you have either of these mounts you may want to consider getting a professional to help free your TV.
If you had a professional install the mount and TV for you or everything was already in place when you moved in it's a good idea to hire someone to help get the TV out of the mount as well. Trying to handle equipment you aren't familiar with is asking for trouble.
Professional Flat Screen TV Packing Materials
Getting the TV out of the mount is just half the battle. Packing a flat screen up properly so that it doesn't get damaged in transit requires the right packing supplies. Professional moving companies like Square Cow Movers will have moving boxes that are specially made for flat screen TVs of a particular size.
Proper packing ensures that the screen doesn't get scratched or cracked and the sensitive components don't get damaged. Packing the TV on the truck also needs to be done right so that the flat screen doesn't get jostled around. After moving thousands of TVs of all sizes Square Cow Movers has got television packing down to a science. When you want assurance that a mounted TV will be taken down, packed up and loaded safely we're the cows to call.
Original Source: https://squarecowmovers.com/why-moving-mounted-tvs-is-best-left-to-the-professionals/