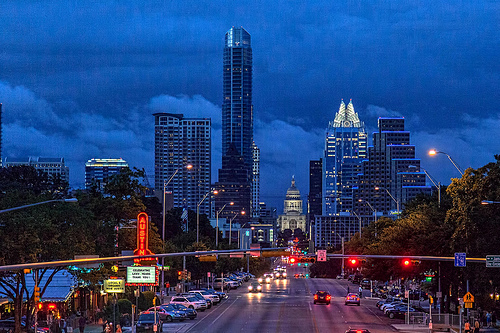 Which Austin neighborhood should you live in? That's a tough question to answer because there are so many good ones! Here's a quick look at the different areas and a few good neighborhood options in each one.
Popular Austin Areas at a Glance
Downtown – The urban epicenter of Austin is a great location for young professionals and empty-nesters alike. With Lady Bird Lake and the hike and bike trail right next door you can still be surrounded by greenery, and you'll be in walking distance of countless amenities, shopping and entertainment. The city has put a lot of effort in making the downtown area appealing to city dwellers and it shows.
South Central – Bordered by Lady Bird Lake to the north, I-35 to the east, Hwy 71 to the south and MoPac to the west, the south central area of Austin has been on people's radars for decades. There have always been a number of professionals and their families in the single-family homes of South Austin, but now there a number of condos starting to pop up, offering more affordable housing options for the younger crowd.
Travis Heights
South Congress
South Lamar
Deep South – The far south portion of Austin lies beyond Hwy 71 and includes a number of quiet neighborhoods that sprang up several decades ago. They are well established and mature trees are all around, but it's still an easy drive up Congress to downtown.
Battle Bend
Garrison Park
Sunset Valley
Southwest – The southwest region is almost like an inner-city suburbia for Austin. It offers many of the attributes that families enjoy in Round Rock and other suburbs, but it's still in the city limits. There are a lot of sprawling planned communities at the picturesque edge of the hill country.
Hill Country / Westlake – The natural beauty of the hill country is hard to beat no matter where you go in Central Texas. The school systems are among the best in the area and the properties are amazing, but it comes at a price. Some of the most expensive homes in all of Austin are located in this area, however the further west you go the more affordable homes become.
East – Hip is possibly the best word to describe the East section of Austin. In the last ten years it has went through a huge transformation from an overlooked mixed use area to a popular place for 20 and 30 somethings to hang out or for art studios to call home. It's still affordable and a little rougher around the edges compared to other areas this close to downtown, but that is quickly changing.
East 6th St.
Riverside Boulevard
Manor
West/MoPac – North of Lady Bird Lake flanked on both sides of MoPac is an area of town that is home to some of the oldest houses in Austin. It's a great mix of urban living and nature, with downtown and Lake Austin both just minutes away. There's also a unique feel of sophisticated bohemia about the region that has lived on despite the city's recent growth. Homes here are rather pricy given the ideal location.
Tarrytown
Clarksville
Enfield
UT – Just above the capital and The University of Texas ("UT") you'll find a sprinkling of neighborhoods full of moderately sized homes, plenty of old almost historical homes, a few McMansions and a number of modern dwellings. Because of its proximity to campus you'll find plenty of college students as well as the faculty in this area of town. The community is generally made up of well-educated scholars that are up-to-date on current events and the latest green technologies.
North – A little further north of 183 between MoPac and I-35 you'll find a lot of neighborhoods with really affordable prices. However, most are in the 30-50 year old range so they may need a little updating. There's lots of big box shopping all around which is convenient.
Harris Branch
Wells Branch
Balcones
Central – Demand for this area has been growing fast because of it's centralized location and affordability. It's a great area for urban families that want a family-friendly neighborhood that's a short drive from everything Austin has to offer. There are a lot of charming homes from the 1950's and 60's that are far from cookie-cutter.
Allendale
Brentwood
Crestview
Have Some Fun Finding Your Perfect Austin Neighborhood
Move-to-Austin.com has a fun and informative Austin neighborhood quiz that can help you identify the best spot for you and your family. You'll answer a series of questions on everything from lifestyle to which picture of a home is most appealing.
If you've already got your sights set on a particular neighborhood, have found the home of your dreams and are getting prepared to move in give Square Cow Movers a call. Our herd has tons of experience moving from one Austin neighborhood to the next.
Image Source: www.flickr.com/photos/dingatx/9343827432
Original Source: https://squarecowmovers.com/which-austin-neighborhood-should-you-live-in