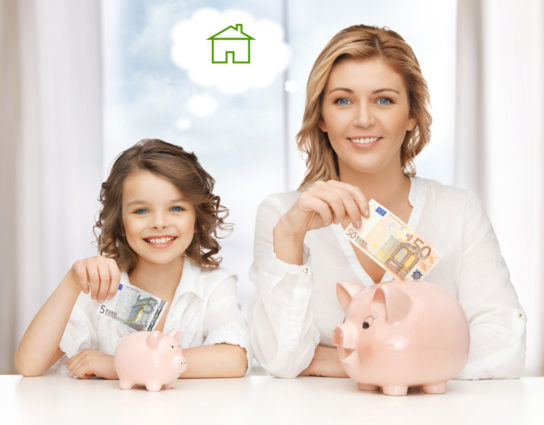 One of the most common inquires about moving is how much a person should save to cover the costs. Talk about a loaded question.
It's a tough question to answer since no two moves are the same. Some of the factors that heavily influence the cost of a move include:
How much stuff you have.
Where you currently live.
How far you're moving.
How much of the work you're willing to do yourself.
If there are items that require special handling.
The moving company rates.
If you're using a moving company to make an in-city move you can expect to pay around $300-600. Renting a truck and moving everything on your own will generally be at least $50-150. That said, below we've provided an overview that can help you determine how much you need to save to cover the cost of moving.
Check the Rates of Local Movers
To get a good idea of the cost of moving in your area, get estimates from at least three local moving companies. Provide them with the details listed above so they can give you an accurate estimate based on your move. Ask for a breakdown of each included expense so you can cherry pick the costs that will apply to your move.
Ask Others How Much Their Move Cost
If you have friends, family members or co-workers who recently moved, ask them if they mind filling you in on how much it cost. If they create an itemized list of expenses for you, you owe them lunch.
Ask Your HR Department for Estimates
If your company offers relocation services there's a good chance the HR department can provide moving estimates. They may also have partnerships in place that save employees money on their move.
Figure Out How Much Stuff You Have
The amount of stuff you have affects the price of moving in three ways:
It influences the amount of packing supplies you need to purchase.
It determines the size of the moving truck needed to transport everything.
The weight of your things will be a factor, especially if you're making an interstate move.
Take an inventory of the items in your home, making a special note of all the heavy household goods. A quick and easy method for estimating the weight of household goods is to multiple each room with furniture by 1,500 pounds.
A moving company will take an inventory of all your possessions and use average weight values to come up with a more accurate estimate. Once the moving truck is fully loaded, movers must weigh it using a certified scale. After subtracting the weight of the truck, the moving company will have an exact total for the weight.
Look Up Local Storage Unit Rates
Do you need to move items into a storage unit? This is a significant expense that many movers forget to account for when they're creating a budget. Call a few storage unit facilities and give them an idea of how many things will need to be stored. They can provide advice on the size of the unit you'll need and the going monthly rate.
Another thing to consider is whether you'll need a climate controlled storage unit. Climate controlled units are always going to cost more than standard units.
Include a Contingency in Your Budget
A contingency is extra money that's set aside to cover unexpected expenses. Typically, a contingency of 20% of the estimated total should be enough.
Spring for Insurance If You're Doing a DIY Move
No matter how careful you are, there's always a chance that something may get damaged during the move. It's one of those unexpected expenses that can make a move much more costly in a matter of seconds.
When you hire a moving company you'll be covered by their insurance since federal law mandates that movers provide basic liability coverage for free and full replacement value protection for an extra fee. But DIY movers don't have that same safety net.
It's worth the added expense to get relocation insurance coverage, particularly if you have pricey or irreplaceable items. Even if you have homeowners or renters insurance, the coverage is likely to be slim. Relocation insurance will protect your items while they're in transit whether the damage is caused by people or Mother Nature. You can also get single item coverage for high-value items.
Square Cow Movers has you covered! We offer affordable rates on first-class moving and packing services. Trust us, our moving bovines are worth every penny. Give us a call or use the online form to get an instant moving quote.
Original Source: https://squarecowmovers.com/much-money-save-moving/