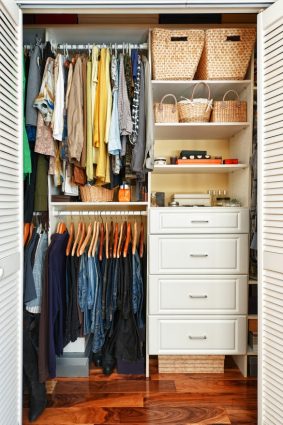 Organization. It's one of those things that make our lives much easier, but who has time to get organized? That's the conundrum. But lucky for you our professional movers know a thing or two about getting organized.
Putting a room in order can completely transform the space. Clearing out the clutter and focusing on functional arrangements can turn a room from eyesore to a comfortable living space in a single afternoon. It doesn't take much money to organize a room, but it will take a little sweat equity.
Step 1 – The Purge
The first step to organizing any room is to purge. Clutter is an immediate organization killer. All that extra stuff just piles up and you have to find space for it somewhere. That is, unless you just get rid of it.
If you've ever read our moving tips, then you may be familiar with the three categories of purged items:
Trash/Recycle
Donate
Sell
We'd like to add one more to this list since you may not be moving – relocate. You may find that some items you do use are simply better off in another place in your home.
Everything else that you no longer want, need or use should go into one of the three piles above. It can be hard to let go of things that we've had for a while, especially if we think that one day it might be of use. But the chances are it won't and will simply take up valuable space.
It may be helpful to enlist the help of a purge buddy. We all have that one pragmatic friend that looks at everything from a practical standpoint. They're the perfect person to help you purge before the organization can begin.
Step 2 – The Inventory
Now that you've purged, take an inventory of what's left. This master list will help you decide what organization tools you need, how much space you have to work with and where things will go.
Categorization is the key to your inventory list. You may want to bucket items by type or by location. The goal is to have a snapshot of everything so nothing is missed during the organization.
Step 3 – The Layout
Now that you know what you're working with, it's time to create a floor plan of the room. A floor plan can help you visualize all of the possible layouts before deciding which configuration will work best. You may want to measure the dimensions of the room and your furniture to know for sure that things will fit.
You can draw out a simple blueprint on paper or go high-tech with your layout. Apps like Rooms and Home Design 3D can help you try out different layouts using your phone or tablet.
Step 4 – The Resources List
What do you need to get organized? Are you going to need a solution for a mess of wires? Is the closet already maxed out? Now is when you can get really creative. Use your inventory list and layout to decide the best way to keep things organized. Since there are entire stores dedicated to containing things you have a lot of options.
Some of the top organizational options include:
Baskets and containers that slide under beds or dressers to maximize your storage space without messing up the sightline.
Tabletop organizers – perfect for people that use the tops of dressers and nightstands as a catchall.
Decorative bowls are another way to keep small items contained and eliminate clutter.
Use hooks and pushpins to hang items on the insides of doors that are only seen when they're open.
Desk and drawer organizers are great for cleaning up and de-cluttering just about any workspace.
Floating shelves help you use the vertical space of a room – perfect when you don't have a lot of square footage to work with.
Drawer dividers that can be stacked help you stay organized and use every inch of space.
Closet racks – Added racks give you more space for hanging.
The options go on and on. What works best will all depend on what you have to organize and how you use the space.
Step 5 – The Clean Up
Once you've got everything you need there's still one last step before the organization can begin. Since everything is already displaced and getting moved around, now is the time to give the room a good cleaning. It's an opportunity for a truly fresh start.
Step 6 – The Organization
Now it's time to put all of the pieces together. If you're working with a large space and/or large pieces of furniture you'll need to get help from at least one or two other people.
Start with the closet, pantry, etc. This can help you get some of your things organized and out of the way.
Next, move the furniture into place. Once the furniture is where it needs to be, organize the area around each piece one-by-one. For example, in the bedroom put the linens and pillows on the bed then start filling the bins that will go under it. Once that's done move on to organizing the nightstand.
Now turn your attention to the walls and floors. Everything that's left will need to be put on shelves, tucked away in decorative baskets, etc.
Do a final quick clean up after everything is organized and in its place.
Follow these six steps and you can transform any cluttered room into an organized, comfortable space!
Original Source: https://squarecowmovers.com/how-to-organize-a-room/