It may not be as difficult as wrangling a herd of cattle, but figuring out the logistics of making a move in one long haul isn't easy. When you're moving across town you have the luxury of making as many trips as you need to get everything into your new home. But if you're moving to another state or even just out of town, you'll want to get everything loaded up and moved at once whenever possible.
Let's take a look at the three P's of getting everything moved in one trip.
Purge First
First things first – purge, purge, purge! The name of the game is to minimize what you have to move. It's the best way to ensure you'll get everything in one haul.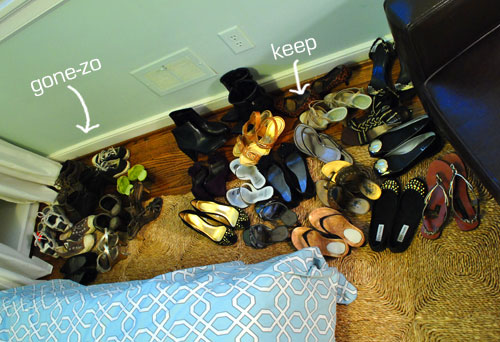 Plan to have a yard sale and do some downsizing before you start your packing plan.
Plan Accordingly – An Absolute Must for Single Haul Moves
College students that have little more than a closet of clothes may be able to throw things in boxes, load up a pickup truck and get moved in one fail swoop without much forethought. For the rest of us with apartments and houses full of items that have accumulated over the years, a lot more planning is involved in pulling off a single haul move.
Create a thorough packing list. Group things that can be packed together and note what type of packing materials are required for each. Also take note of the dimensions and the weigh of the items.
Get a moving truck or trailer that's big enough to fit everything at once. Your personal vehicles can be a back up for any spill over. Use your packing list to get the best estimate possible of the total weight and square footage of what you'll be moving to determine which size truck or trailer will work best.
Consider how you are going to get your vehicles to the new location. If you are renting a truck you may need to also get a trailer to tow your car. Or it may be best to drive your vehicle and tow a trailer. You can also use a shipping service to get a vehicle to the new home. Do a little research and get quotes from Texas moving companies before deciding which option is the most economical and convenient.
Pack Efficiently
Once a box is taped up the wasted space will go unused. Packing is an art, and when you know what you're doing you'll be amazed at how much can fit in a single box.
Learn to pack like a pro. We've created a number of Square Cow Guides and How To's that show you how to properly pack all sorts of items.
Find the right kind of boxes. Nowadays, there's specially made boxes for just about everything. Using the right boxes will help you maximize its space.
Use Space bags for bedding and clothing.
Load the truck for maximum capacity. Just like packing up a box, how you load things into the truck can make a huge difference in how much you're able to fit into it. The trick is utilizing height as well as floor space.
Moving everything in one trip may be necessary for people that are doing a long distance move, but it's also a great idea for people that are just going across town. Getting everything in one haul is more economical and eco-friendly since it requires less gas to get the job done.
So purge, plan accordingly and pack efficiently if you want a one and done move.
Original Source: https://squarecowmovers.com/moving-everything-in-one-long-haul