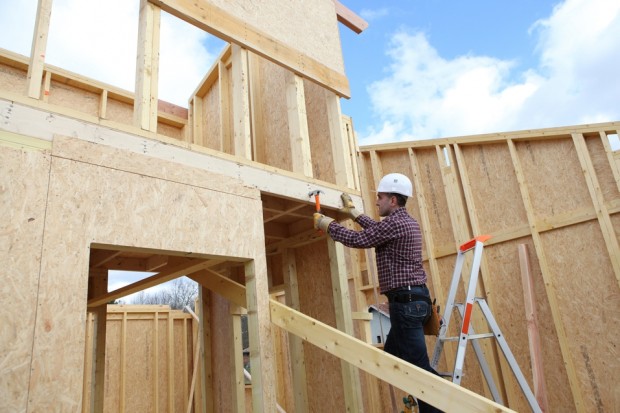 During the cold, dark winter months the need for climate control and energy efficiency is at an all time high. If you're looking for a new home it can be difficult to determine how efficient a house will be before your first utility bill. Good thing our moving crew has seen their fair share of super efficient homes.
Here are the top energy features to look for to make sure you're comfortable the day you move in and won't get hit with an outrageous electric bill.
ENERGY STAR Certification
The best indicator that a newly constructed home will be as energy efficient as possible is the ENERGY STAR label. Only builders that meet the organization's energy efficiency requirements are able to advertise their homes as having the ENERGY STAR seal of approval. Going the extra mile is definitely worth it – ENERGY STAR homes have be shown to save 20% on utility costs and keep the inside environment more comfortable.
Programmable Thermostat
This one feature can help you save up to 15% on energy and keeps your house at the ideal temperature. Every home should have a thermostat to control the HVAC system temperature, but a programmable device has a lot more options. A quick look at the panel will tell you whether schedules can be set to automatically adjust the temperature at certain times of day to decrease energy consumption.
ENERGY STAR Appliances
The ENERGY STAR label is also given to a number of efficient products, including home appliances. These appliances have been shown to use up to 20% less energy and/or water than standard models. For example, ENERGY STAR dishwashers cost $25 less to run each year. Home owners with ENERGY STAR refrigerators can save up to $100 or more depending on the model that's being replaced. To figure out if appliances are ENERGY STAR rated check the organization's list of productsand/or look for the ENERGY STAR emblem, which should be on the outside or inside of the appliance.
Smart Automated Features
More and more homebuyers say that one of the top selling points of any home is automated, smart home features. These are new devices, appliances, lights and even curtains that can be programmed, scheduled or adjusted based on how you use them. They are designed to improve energy efficiency without making you do any work once they're set up. The Nest Learning Thermostat is one of the top smart home features today because it maximizes the benefits of a traditional programmable thermostat but doesn't even have to be programmed.
Double Pane Low-E Windows
A recent survey from the National Association of Home Builders (NAHB) found that low-e windows are one of the top features that are being added to new homes. Why? Because more buyers want them. Low-e stands for low-emissivity. A coating is put on the glass to allow light through while blocking heat from the outside. It will also help prevent the heated or cooled air in your home from escaping. Many low-e windows are also double pane, which means they have two layers of glass instead of one for better insulation.
How can you tell if windows are double pane and low-e? If you look carefully at the inner part of the window you'll be able to see how many panes of glass a window has. Figuring out if it's low-e is a little more tricky. Use this reflection test to check windows for low-e coating.
New Water Heater
Today even conventional water heaters are much more efficient than older models. This adds up over time because tank storage water heaters are constantly running to keep heated water on standby. A tankless water heater is more energy efficient since water is heated on demand. However, because of the added expense, tank storage water heaters are still the most common. There are a few things to look for to gauge the energy efficiency of a tank water heater:
Appropriate size.
ENERGY STAR rated
Thermal resistance of the tank (R-12 to R-25)
Check the labels on the side of the tank to see all of this information as well as the age of the tank. Another way to minimize wasted heat is by insulating the water heater pipes.
If you really want to gauge the efficiency of a home before going through with the purchase consider getting an energy audit in addition to a home inspection. This will give you a complete picture from the attic insulation to air leaks at the foundation level. Moving to Austin? The Energy Conservation Audit and Disclosure (ECAD) ordinance requires that sellers supply the buyer with an energy audit for any home within the city limits that's 10 years or older.
Square Cow Movers can make a move in Central Texas more efficient than you ever thought possible. Our team is highly skilled in minimizing the time and energy it takes to pack, load, transport and unload during a move. Call us today or use the online form to get an instant moving quote!
Original Source: https://squarecowmovers.com/heating-and-en-in-a-new-home/