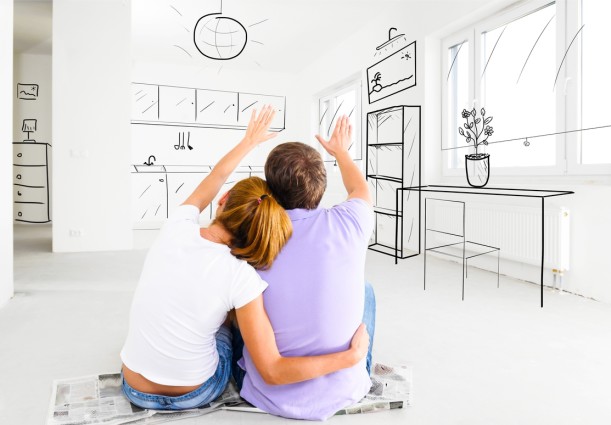 Part of the fun that comes with moving into a new home (because not all of it is fun) is getting to decorate the new space to fit your tastes. It's kind of like starting a new long-term relationship. A new home is exciting and full of possibilities, but it can be stressful to think about starting over.
You're getting to know your home, and how everything will fit into it. The trick is feeling things out and incorporating your personal touch to make the new house a comfortable abode that you want to come home to.
Make a Wish List
Dating site eHarmony.com recommends that people make a list of the qualities they are looking for in a mate. The same advice can be used to put together your décor. Write down the feelings that you want the décor to convey and how you want it to make you feel. Also, consider the things you learned from your last house. This list will be a useful guide while you're putting all the pieces together.
Color Me Love
There's no easier way to create a certain mood than with a can of paint. For a quick décor fix that you will truly appreciate turn your attention to the walls in your bedroom. It's best to keep the communal spaces neutral, but in the master suite it's all about your own preferences. Keep the bedroom subtle for sleeping, but don't be afraid to go bold in the bathroom.
Add Soft Lighting
There's nothing more relaxing (and romantic) than soft lighting. It's also very flattering and can make a space feel warmer. This décor update can be as easy as using dimmable, smart light bulbs in your lighting fixtures. Another great alternative is to hide strip lighting above the kitchen cabinets for ambient lighting. Already have lamps but want to update the look for the new space? Swap out the shades to change up the look and lighting in a room.
Work With an Odd Feature
You can't change the other person in a relationship, and sometimes there are odd features in a house that at first you just can't get over. You know, those odd features that almost made you pass up the house if it wasn't perfect in very other way. Instead of ignoring it or trying to force it to be something it's not, embrace those awkward spaces in your home. Weird nook under the staircase – add a comfy chair to create an intimate reading spot. That column that comes out of nowhere – hang your photos on it to create a unique display that will get noticed for the right reasons. With a little creativity and caring you'll come to love the annoying little oddities.
Try Something New
Have you always wanted to do a chalkboard wall in the kitchen but shied away? Or wanted to do a humongous art piece but never had the ceiling height? The new home is a clean slate where you can start fresh. Step out of your comfort zone with at least one design choice, and you'll learn a little something about yourself in the process.
Don't worry if things don't come together right away. You may just need a little more time to get to know your new home. After a few months you'll have a better feel for how make the best use of the space. You may also be surprised to find that what you thought would be a hang up ends up being your favorite feature.
Want to find a compatible moving company? Then swipe right for Square Cow Movers! Hundreds of people have fallen in love with our Central Texas moving company. That's because like any good partner we put your moving needs first.
Original Source: https://squarecowmovers.com/easy-decor-ideas-youll-fall-in-love-with-at-your-new-home/