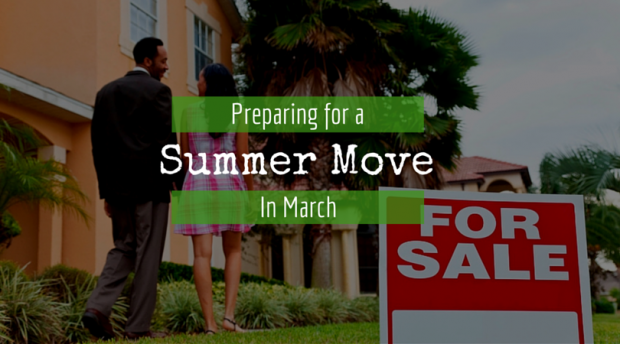 Like many other families, you're planning on pulling up stakes to find greener pastures this summer. There's a lot to do between finding a new home, packing and lining up a good moving company – but hey, your summer move is still months away.
Now hold your horses before you kick back and relax. Summer is the high season for moving, and people often underestimate how much time it will take to get everything done. That's why March is the perfect time to start preparing for your summer move.
More Time Equals Less Stress
The equation above holds true no matter what time of year you're moving. Even if you're just moving across town, we always recommend that clients give themselves three months to plan, prepare and execute a move whenever possible. That way you can take your time getting things done in an orderly fashion instead of scrambling to get it everything handled last minute.
You're More Likely to Find the Right Housing
Buying, and even renting, a new home takes time. You'll need to get your financials in order, find a place and then wait through the closing process. Not to mention having to compete with all the other people who are trying to find a place to live as well. If you wait too late, you may feel pressure to settle for whatever you can get.
During spring more sellers are starting to put their homes on the market, and while there are more people touring homes, many are tire kickers that are feeling the market out before the summer season. By house hunting in March, you'll have a better selection of housing to choose from and less people who are seriously competing for the best homes. This can mean a lower chance of getting in a bidding war and better chance of getting a good price. Traditionally, home prices are 3% higher than average between May and June, so try to get your housing squared away before then.
Service Providers Will Be Slammed
From real estate agents to cleaners to moving companies, any service provider that works in a housing-related industry will be extremely busy during the summer. If you haven't already researched providers and scheduled services, there's a good chance they'll be too booked to help.
You'll Get to Enjoy Some of the Summer in Your New Home
If you begin planning your move in March, you can shoot for an early summer move. This will give your family plenty of time to get unpacked and adjusted before the new school year. Instead of spending the summer stressing about a move, you'll be able to relax and explore your new neighborhood or city. There may even be time to join local organizations or activities and make new friends.
Summer is the busiest time of year for Square Cow Movers. If you're moving in Central Texas this summer give us a call now to secure our services!
Original source: https://squarecowmovers.com/why-march-is-the-time-to-prepare-for-a-summer-move/