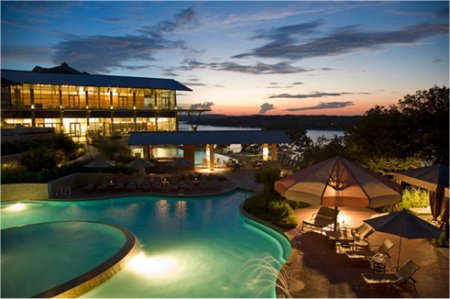 One of the many benefits of living in or moving to Texas is that around every corner there's something new to discover. Little towns built by German immigrants. Centuries old missions that tell the tale of Texas' rich history with Mexico. Natural wonders unlike anywhere else in the world. Huge metros that have been the home to cultural revolutions.
Texans don't have to travel far to find relaxation, an urban oasis or adventure. This holiday season instead of traveling to a far off location consider taking a staycation in the Lone Star State. You'll save a little money, stress a whole lot less and experience another part of the great state we call home.
Rough It Without Roughing It
In the charming little city of Fredericksburg lies Cotton Gin Village. There you'll find rustic cabins outfitted with all the modern day comforts. While relaxing on your cabin's front porch you can sip wine from a local vineyard before enjoying a fine dining experience complete with wild game. Time seems to move a little slower in this historic town, making a long weekend feel like a luxurious week long retreat. Plus, the town is beautifully decorated to the nines during the holidays and Enchanted Rock State Park is a short drive away. It's the ultimate way to rough it without having to do a lick of work.
Get a Real Cowboy Experience
The Dixie Dude Ranch in Bandera, TX will have you tipping a 10-gallon hat and kicking up your spurred boots. The ranch fully immerses guests in the Texas cowboy experience with horseback riding, home-cooked meals out of a covered wagon and wide-open views of the untamed Hill Country. It may be a little kitsch, but it's an experience every Texan should have at least once. During your stay in Bandera make sure to stop by the Silver Dollar Saloon to enjoy a little Texas country music and dancing.
Let Your Inner Child Run Free
If you ever wished you could stay overnight in the zoo when you were a kid, your wish has been granted. The Exotic Resort Zoo in Johnson City offers a one-of-a-kind experience overnighting within their 137-acre preserve that is filled with exotic, endangered animals. It's the closest you'll get to staying in the outback or savanna without traveling half way around the world. Guided safaris are available during the day for guests that want to get an up-close look at more than 80 animal species.
Enjoy a Romantic Getaway on the Coast
The Wyndham Grand Hotel's Tremont House in Galveston is nothing short of spectacular. The 136-year-old hotel is right in the heart of the historic district and just over a mile from the beach. All around this is a great getaway for couples that want to spend a little quality time together. Every inch of the hotel is beautifully appointed, and the rooftop bar is the perfect place to unwind after a day soaking in the sun and escaping the cold weather.
Complete and Utter Relaxation
No matter what helps you relax you're sure to find it at Travaasa Austin. It's a self-proclaimed experiential resort that caters to every type of guest. The resort specializes in all-inclusive "experiences" with experts. Do you enjoy culinary delights? Then try a cooking class with a renowned local chef that can show you new ways to prepare food. Want to get out in the fresh air? Then zip line through the Hill Country on the Prickly Pear Challenge Course. And no resort would be complete without a full-service spa, but Travaasa takes it to the next level with meditation and breathing work.
These are just a few of the staycations you can enjoy close to home if you move to Central Texas. Give Square Cow Movers a call, and we can do the work for you while you enjoy a little relaxation this holiday season!
Original Source: https://squarecowmovers.com/uniquely-unforgettable-staycations-texas/