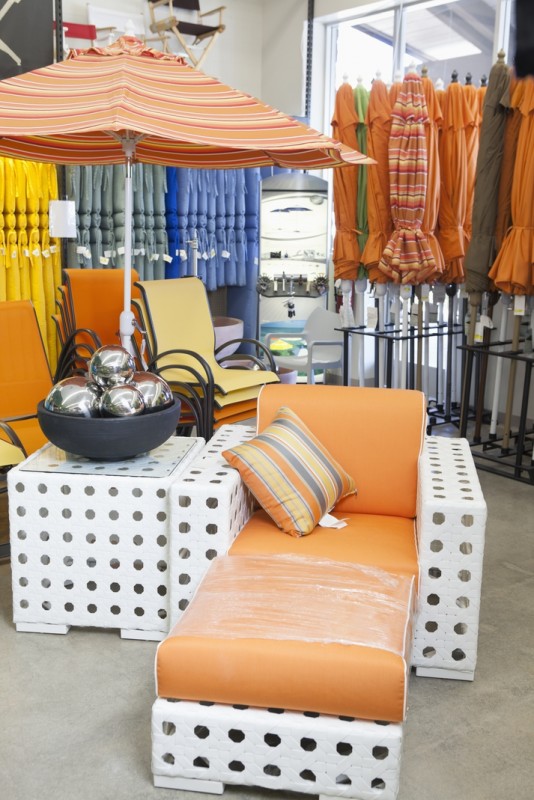 A move is an opportunity to evaluate your living spaces and make improvements so that they fit your current lifestyle better. One area to focus on during your summer move is your outdoor space. Even though summers are hot in Central Texas, this is when we're most active outside with barbequing, taking a dip in the pool, and relaxing in general.
In this post our home décor cows are providing tips on how to decide what to move with you, finding new affordable items for your outdoor living spaces, and setting up even in the middle of unpacking.
Choosing What to Keep and What to Get Rid of for the Outdoors
The first step to any move is the purge. Because outdoor pieces are usually bulky and cumbersome, now is the time to decide whether or not you want to keep items.
Things to consider:
If something is broken or doesn't work properly.
How is your new outdoor living space different from what you have now?
What do you love/hate about your current setup?
Will an item require special moving or additional resources to move?
Is your current outdoor space set up for what you really enjoy to do outside?
Anything that doesn't work or is on its last leg should be tossed. Anything you aren't in love with and have the funds to replace or can sell should be sold.
Finding Better Prices on Outdoor Items During the Summer
Has your current outdoor furniture seen better days? Can you finally have your own grill? Do you have a lot more space to work with?
Making investments in your exterior living space is best during the fall and winter when outdoor furniture, grills, etc. are on sale. But that doesn't mean you can't find good deals during the summer. Here are a few ways to find deals all year:
Use wood pallets to create inexpensive outdoor furniture – Wood pallet designs are surprisingly easy DIY projects that are very affordable.
Visit secondhand furniture stores – There are a lot of cool, affordable finds at thrift stores. You may have to go to a few before you find something you like that's in good condition. If you prefer a more eclectic aesthetic thrift shopping is an ideal option.
Look for gently used items on Craigslist – Someone else that just got new furniture or a bigger grill may be offering their used items for way lower than the store price.
Buy quality pieces from budget-friendly stores like IKEA and Target.
Shop around the summer holidays – Many stores have special sales during holidays. Hold off until July 4th, and you may be able to score some really good deals.
Check out what's available on Overstock.com – Overstock.com has great deals year round on outdoor furniture that retailers are trying to sell so they can make way for new items.
One word of advice: be careful using indoor furniture and art outside. Some materials just aren't made for the elements. Even if they are inexpensive they may not make it past the first summer season.
Setting Up a Conducive Outdoor Living Space at Your New Home
We recommend making your deck, patio or porch one of the first places you unpack. Why? For one, it's often much easier to set up than other rooms because there are less knick-knacks and whatnot. It will also serve as a sweet escape. Inside may still be full of boxes, but the outdoor living space can at least feel like it's settled.
Step 1 – Before moving day, take a trip out to your new home to get a feel for the space. Take pictures for reference if possible.
Step 2 – Decide if you want to change or modify the landscaping and whether it will affect setting up the rest of the outdoor space.
Step 3 – Will you be constructing or altering the footprint of the outdoor space? If so, you'll need to make arrangements for getting the project done either before you move in or shortly thereafter.
Step 4 – Decide where your current items will go and what new things you need to get to finish out the space. One thing to consider is where the sun is throughout the day. If there's no natural coverage you may want to consider adding artificial shade.
Step 5 – Since you'll know where you want your outdoor cooking equipment, furniture, and plants to go, get the job off to an efficient start by having the movers put things in place.
Our moving bovines are ready to help you get your outdoor living space looking great! Call us today or get an instant moving quote online.
Original Source: https://squarecowmovers.com/tips-for-setting-up-a-great-outdoor-space-during-a-summer-move/