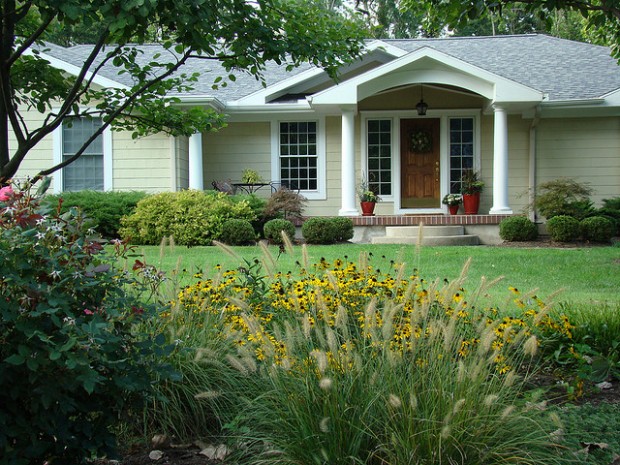 Is your landscaping and exterior "Honey Do" list growing a little too long? If so, you may be contemplating whether or not it's easier just to pick up and move to another home that already has everything done the way you want it. Exterior fixes are often complex undertakings compared to many of the little indoor upgrades homeowners tackle. Here are a few considerations that can help you decide if you're on the fence.
It may be best to stay and make the exterior fixes if:
Your kids are in a good school district.
The move to a similar neighborhood would extend your commute.
Your monthly payments would increase – This could be the case if you have already paid down a 30-year mortgage. Even if the cost of the home is lower a 15 or 20-year mortgage could be more than continuing to pay off your current one.
You love your home and it meets your needs, minus a few exterior fixes.
You adore your neighborhood, but there's rarely anything available that would meet your needs.
However a move could be prudent if:
You can't afford to make the necessary fixes.
The profit from your current home would help you find everything you're looking for without paying more.
You want to take advantage of the low interest rates while they're still around and refinancing isn't an option.
There are other aspects of the home that aren't meeting your needs.
You would prefer to live in another neighborhood all together.
Typically the exterior of the home isn't as crucial as what's inside, however it can have a great impact of the home's value and how much you enjoy it. It's time to take a closer look at some specific exterior remodeling projects to see which ones are worth making versus moving.
Exterior Remodels That Are Worth Making Instead of Moving
Fixing Up the Deck
There are lots of ways you can improve a deck to make it more useful and appealing. It can be a low cost, easy fix like simply cleaning and resealing, or it can involve a little more work and investment like adding a level or fixing the railing system.
The experts at Timbertown Austin help homeowners build and improve decks year round. They suggest that homeowners do an annual inspection to look for any questionable spots including rot, loose joints and split boards. A deck that isn't structurally sound is a serious safety hazard. If anything in the substructure, stairs or railing looks questionable or is damaged it needs to be fixed ASAP whether or not you plan to move.
Landscaping
Landscaping can often be low cost, but it's always a matter of personal taste. Typically it's much easier to create the landscaping you want than it is to find exactly what you're looking for in another home. The one exception is if you want mature trees that would cost thousands to plant. However, if you opt for fast growing trees that are younger in a few years you'll have the mature look and the added property value.
Siding Replacement
Replacing or adding siding to your home may cost a lot less than you think and will instantly give your exterior a major facelift while adding to its curb appeal. Siding replacement is also a remodeling project with one of the highest returns on investment – 71.8-79.3% depending on the material used.
Exterior Remodels That Could Cost More Than a Move
Foundation Fixes
If the foundation of your home or patio needs to be repaired this could be a very costly fix. While you can get lifetime guarantees from some companies there's no guarantee that the problem won't reoccur, particularly if there's evidence that the land is unstable.
Completely Replacing a Deck
Like most things wood decks have a lifecycle, which is usually somewhere between 20-30 years. If your deck is over 30 years old or in complete disrepair it's time to remove it and replace it. This can be a big undertaking, especially if you weren't planning on having to replace the deck entirely. The one caveat here is that building a deck is an addition that has a great return on investment (around 77.3%) so it's still worth considering if the home is otherwise perfect.
Outdoor Kitchen
If you're an avid outdoorsman or woman eating al fresco is always a nice change of pace, and an outdoor kitchen makes dining outdoors super easy. While they are great to have, outdoor kitchens are still seen as a luxury, not a necessity so the return on investment may be low, especially if your area isn't conducive for outdoor entertaining. It could also be an over-improvement in your neighborhood, which will mean you're going to recoup less of the cost. Instead you may be able to find a new home that already has an outdoor kitchen and reap the rewards of the time and labor someone else put into it.
But what if most of your remodeling is inside the home? In the second half of our moving versus remodeling series we'll discuss which projects are worth taking on and which ones are better left alone while you look for a new home.
Image Source: flickr.com/photos/72861652@N00/3888144369
Original Source: https://squarecowmovers.com/moving-vs-remodeling-how-to-decide-when-the-exterior-needs-work/