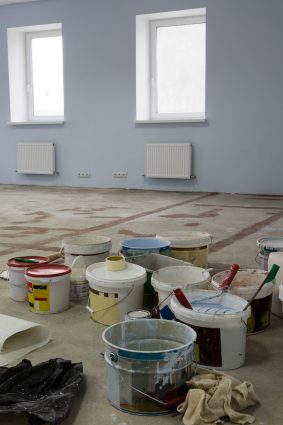 Construction adds an interesting wrinkle to business moves no matter where you're moving to and from. Trying to get everything timed just right becomes near impossible because so many moving pieces are at play. The four tips below can help business owners prepare so that build-outs and renovations don't derail the move.
Tip #1 – Never Schedule Movers Before the Building Begins
If you're building new or doing major renovations you should have plenty of time to plan the move after the work begins. That way to can get a better gauge of whether things are staying on schedule and how fast the construction crew can get things done. Also, in the world of construction vetting contractors, getting contracts signed and breaking ground usually takes longer than anticipated.
As long as you schedule movers a month in advance they should have no problem loading up the truck on a specific date.
Tip #2 – Be Prepared for Delays
Virtually no construction project is without delays. Everything from getting a city inspector out for permits to a mysterious plumbing leak can slow things down or hold up work all together. It's a good idea to create a construction schedule, but give yourself ample padding for possible delays at each stage of the process.
Let the movers know about the situation up front so they aren't blindsided if you have to reschedule because of a delay. Share your current timeline for completion and get a tentative date on the books. Once you get a little closer to completion and delays are less likely contact your moving company to lock in an official moving date.
Tip #3 – Look Up Storage Options Just in Case
There's a chance your first move won't be into the new workspace. If the delays mentioned above stall things for too long you may find yourself in the position where you have to be out of your current location, but the new office or building isn't ready.
Go ahead and research local storage facilities just in case plans change. You'll be a lot less stressed knowing there's a backup plan. When you research facilities ask about their clearances to make sure the moving trucks can get in and out.
Tip #4 – Don't Wait for the Final Touches
If you're on a tight timeline and all the essentials are already in place it is possible to move into an office or commercial space that's still technically under construction. As long as the flooring is done, the plumbing and electrical are finished, no more walls are changing and utilities are in place you may be able to work there without too many issues.
Keep in mind that the construction supervisor may have to give their approval for the space to be occupied if you're moving into an office building.
Let Square Cow Movers help you time your business move! We've helped businesses move during just about every type of situation. We've also constructed and renovated a few sites of our own so we know firsthand how stressful it can be and how to avoid common issues.
Use the online form to get an instant moving quote or call the closest Square Cow Movers location to tell us more about your move!
Original Source: https://squarecowmovers.com/timing-move-office-construction/