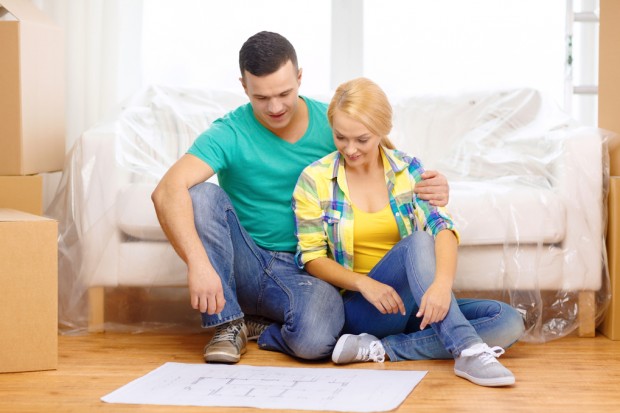 Got a big home renovation right around the corner? Gutting a kitchen, redoing the floors, replacing sheetrock – these are just a few examples of major renovations where your furniture and other belongings may need to be moved out of the way.
If you've never done a renovation or visited a home that was under construction you may be surprised at how stirred up everything can get. Within the first day your once orderly home can quickly look like a herd of buffalo just came through. The reasons for moving everything out of the construction zone are numerous:
Moving everything out of the home or into another area may be a necessity in order to get the renovation done.
It's a safeguard that protects your belongings. Moving and storing your furniture, knick-knacks, etc. could be far cheaper than having to replace items that get damaged or need to be cleaned.
The job will be easier and quicker if the construction crew doesn't have to work around everything, which can save you on labor costs.
If you're moving out during the construction storing your things gives you peace of mind that it's all secured.
How Square Cow Movers Can Help You With Renovation Storage
No matter how much you have to move or how much space you have to work with Square Cow Movers knows how to handle a renovation move. Even pianos and pool tables are no problem for our moving bovines!
In-house Moving – If you've got a barn of your own or at least a garage Square Cow Movers can get everything rearranged in a jiff to make way for the renovations. Our professional movers know how to make the best use of the space you have, and we can provide expert advice on where to store things at home so that the necessities are still accessible and there's less inconvenience.
Storage Unit Moving – If the renovations are going to be more than a few weeks you may decide that a storage unit is a better option than an in-house move. If this is the case, Square Cow Movers can get everything packed up on our moving truck, transport it to the storage facility for you and then unpack it into the storage unit. We handle all the work for you so you can focus on the renovation.
POD Packing – Nowadays some homeowners are forgoing the traditional storage units for pods that are placed on their property. These are great when you have a small renovation that requires less moving, or you'll be staying at home and need access to items in storage. Our movers are experienced in packing up pods so that everything is secure, the space is maximized and it's easy to get to things you may need during the renovation.
If you're getting ready for a renovation give Square Cow Movers a call. Our helpful moving consultants can assist you in planning everything out so your interior is ready in time for the renovations and there's one less thing to worry about.
Original Source: https://squarecowmovers.com/storing-furniture-during-renovations/