In Texas our motto is 'Everything's bigger', but if you've been keeping track of the real estate trends in Austin you may think otherwise. As the urban center has become more livable condos have been springing up left and right. The multitude of cranes is a sign that there's a lot of demand for a smaller, simpler lifestyle.
Everyone from young professionals, to small families to empty nesters are beginning to opt for smaller homes and condos that are closer in to the city center. But is downsizing the right move for you?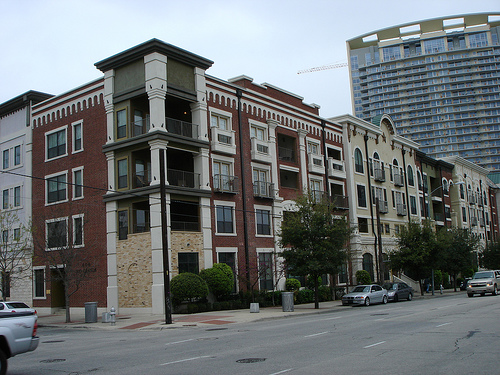 Does Small Mean Less Expensive?
In real estate smaller doesn't always equal less expensive. The biggest bearing on the cost of a home is going to be location. If you're considering a move to a smaller condo in the city center here are some expenses to factor in:
There will be less maintenance to do on a condo – especially since there's no yard to upkeep.
The utilities should be less expensive in the small space – especially if you have shared walls on both sides.
Less travel expenses to get to amenities and entertainment.
The monthly condo association fees could add a lot to the overall expense.
Making the move to a smaller space will definitely simplify things, but it doesn't necessarily mean you'll be paying a lot less each month.
Losing Personal Space, but Gaining Access to All the Action
For some people it's all about square footage, for others it's about access. When you decide to simplify your home by going smaller you will be sacrificing some personal space. On the other hand you'll also become more involved in your surroundings.
When you can walk to just about everything you become better connected to your neighborhood. If you live in a condo the entire property feels like an extension of your home. The place you call your own will be smaller, but your ability to be where the action happens is far greater.
Are You Capable of Downsizing?
The idea of purging everything but the necessities, and living the simple life is very appealing. Putting the concept into action can be a lot harder. One of the biggest hurdles of simplifying by going small is all the stuff.
Some people hold onto things for emotional reasons, while others like to know they have something in the off chance they ever need it. Over the years all the things pile up, and you have to have space for all of it. If you're dead set on downsizing the first step is to start getting rid of everything that you don't need or never use. If there's still too much for a smaller space there's always the option of renting a storage unit if you don't mind taking on the additional expense.
Areas of Austin Where Simplifying to a Smaller Home is Easy
These Austin neighborhoods have a lot to offer someone that is looking for a decently sized one or two-bedroom condo that's close to downtown and the city's plethora of activities.
South Shore District
Zilker
South Lamar
East Side
Rainey Street
As the Austin Business Journal recently noted there are dozens of condo projects currently underway and in the planning stages throughout the city. If you're thinking of getting your own simplified living space give Square Cow Movers a call. We have tons of experience handling the logistics of making a move into condos and high-rises.
Image Source: www.flickr.com/photos/brandonzeman/3354429798
Original Source: https://squarecowmovers.com/simplifying-to-a-smaller-home-in-austin