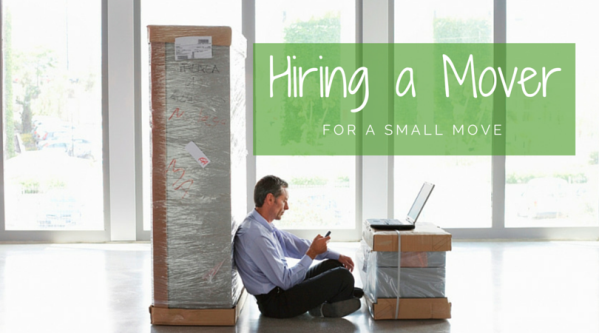 Making a move, but don't have a lot of stuff? Just moving across town? There are times when you may question whether you need to hire a moving company for your "small" move. But don't let the number of items or lack of miles fool you. There are many instances when a "small" move is best left to the professionals.
It Won't Fit in One Trip
The more trips you have to make the longer the move will take, and the more you'll have to spend on gas. If you can't fit everything in your car in one trip you may want to consider calling a mover. Moving trucks are great, because they're big. In most cases everything can be loaded up and transported in a single trip. The convenience factor alone can make hiring movers worth every penny.
You Need to Move in a Day
If you need to make a move in a single day, the safest bet is to hire movers. This will not only ensure multiple trips don't have to be made, but will also make the loading and unloading process go a lot faster. While movers are handling the manual labor you can take care of the other moving logistics.
You Have Heavy Items
When heavy items are being moved there is always a chance of someone being injured. Strains, sprains, even breaks – according to the Bureau of Labor Statistics these are all injuries that movers endure. The difference is professional movers know how to do it right to prevent injuries and they have workers compensation if something does go wrong. Your friends, on the other hand, probably aren't so lucky. Anytime you have heavy items, especially if they have to be brought up a flight of stairs, it's a good idea to hire a few movers to help.
You Have Odd or Expensive Items
Some items, like moving a piano or pool table, are a serious pain in the rump if you don't know what you're doing. The more delicate or intricate the item is the greater chance that something will go wrong. It's usually best to hire a professional mover that has experience handling your unique item and insurance to cover things, just in case.
It's a Long Distance Move
You don't have a lot of stuff, but you do have a long way to move it. Many people enjoy road trips, but hauling your home goods hundreds of miles requires a fair amount of work. If you're not used to driving a moving truck or pulling a trailer it can also make things more stressful than enjoyable. Save the wear and tear on your vehicle and your nerves by letting professional movers handle the transport.
Square Cow Movers handles "small" moves all the time. Have a single, specialty item that won't fit in your car? No problem. Need to move everything in your studio to another city? We've got you covered. Use our online form to get an instant moving quote!
Original source: https://squarecowmovers.com/should-you-hire-a-mover-for-a-small-move/