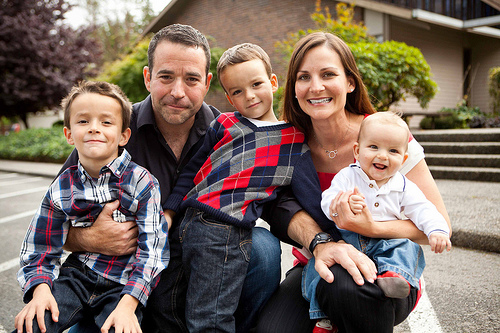 Is your family relocating this year? A strategic packing plan is key to keeping things manageable during a family move. Here are our favorite tips on how to put together the perfect packing plan for your family.
Tip #1 – Divide and Conquer
Make packing a group effort by getting everyone involved. Either assign certain tasks to each family member or put a single person in charge of a certain room. This works great if you have older kids that can be responsible for packing up their own room. Even the little ones can assist with smaller tasks, like labeling the boxes or stuffing them with peanuts.
Create a task list for each person that includes a timeline for when things need to get done. You can also look into apps and online tools that help you create moving lists and share them with others.
Tip #2 – Give Yourself Plenty of Time
Proper packing takes time – lots of time. Ideally you'll want at least a month to get everything organized and packed up, but two months is better. Packing is already stressful enough, but if you feel pressed for time it will only make matters worse. Stick to your schedule and don't let family members procrastinate.
Start with storage areas like the garage and attic 4-6 weeks out from the move. At 3-4 weeks, start tackling the closets. Next, move on to knick-knacks and décor when you're about 2 weeks from moving. The dining room, playroom, laundry room and den are the first rooms that will need to be packed up a week before the move. Finally, move on to the bedrooms, bathrooms, kitchen and living room over the last week you are in your home.
Tip #3 – Do a Complete Inventory of Your Items
Have each person go through the rooms that they are responsible for packing up and list each item in one of the following categories:
Pack
Donate
Sell
Giveaway
Now is the ideal time to go through your belongings with a very subjective eye and weed out everything that you don't really need or no longer want. The more that falls into the donate/sell/giveaway categories the less you have to worry about packing up.
Tip #4 – Decide If You Want Anything Professionally Packed
Short on time? Have delicate items that are difficult to pack? Would you prefer to have the added security of knowing the movers are accountable for expensive items? If you answered yes to any of those questions you may want to reach out to professional packers that can do the job for you. Many moving companies will also offer additional services like packing.
Tip #5 – Go Over Proper Packing Techniques
Before you start boxing things up have a family get-together and go over the best practices for packing, such as wrapping each item individually and what types of containers to use for different items. Also stress the importance of properly and clearly labeling the containers. It not only makes unpacking much easier, it also helps you load and handle the boxes more safely.
Tip #6 – Have a Packing Party
A week or so before you move, invite friends and family members over for a packing party. This will give you a chance to enjoy your home one last time and make a few more memories before you move. It's also a great opportunity to give away things you aren't planning on packing up. Give guests the first pick of the items in your giveaway and donate categories.
Tip #7 – Plan Out Your Overnight Bags
Moving into your new home will take a few days, so essentials for the first 48 hours should be packed up separately. Have each family member pack their own bag that includes items like:
A towel
A toothbrush
Medication
Toiletries
A change of clothes
A bottle of water
You'll want to pack additional supplies for the whole family to use, including toilet paper, a tool kit, a flashlight, soap and snacks. This first night kit will get you by if you choose to stay in your new house the first night instead of a hotel.
Image Source: www.flickr.com/photos/mhcseattle/6244319208
Original Source: https://squarecowmovers.com/putting-together-a-strategic-family-packing-plan