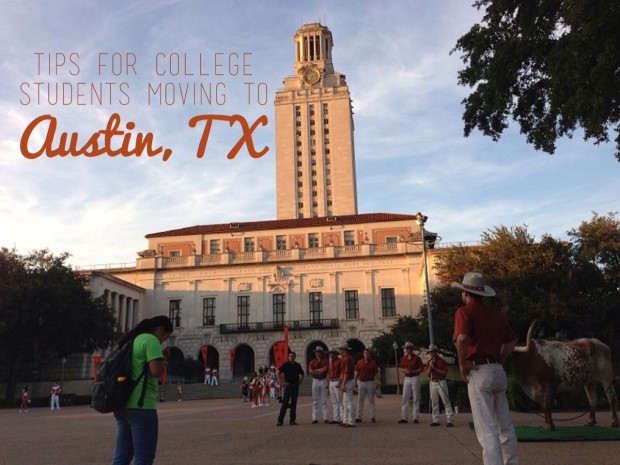 The start of the fall semester is still more than a month away, but now is the time to get serious about planning a move for college. You'll need to start figuring out which living arrangement works best based on all the options, decide what to pack up and what to leave at home with your parents, whether you need to buy new furniture and more.
Where Should You Live?
The first decision is deciding which type of living situation is going to work best. Luckily, Austin is a college town and students have a lot of options.
Dorm – If you're a freshman the residence halls around campus are a great living option. The 15 UT dorms are on campus or right along The Drag across the street so it's not a problem if you don't have a car. Living in a dorm is also a great way to meet people and start making friends in your new city. If anything, you may want to consider a dorm because it's a once in a lifetime experience. Sure, the room isn't huge and you never know who you'll get as a roommate, but that's part of the fun.
Apartment – If you want a little more privacy and a lot less distraction there are way more apartment options around campus these days. You can get more for your money by looking a little further from campus. Just make sure it's not too difficult to get to the university and that there's a bus stop nearby. East Riverside actually has several large apartment complexes with UT bus stops right out front.
Sorority/Fraternity House – If you're coming back to Austin for your second, third, fourth year of school and you belong to a sorority or fraternity there's a possibility that living in the Greek house is an option. This is a good idea if you're disciplined with your studies and can handle distractions.
Renting a House or Townhouse – If you have a friend or two that wants to share a place this semester renting a house or a townhouse is a possibility. Depending on the area of town and the number of people you share the house with it could be just as affordable as any of the other options. Just keep in mind that this living arrangement is a little less social than the others, and you may have to handle things like yard maintenance on your own. College students that will be graduating soon and are considering buying a home in the near future may want to rent a home first to get a better idea of what ownership would be like.
What to Pack for a College Move
Once you've got an idea of where you want to live you can start deciding what will go with you to college and what will stay at home with the parents.
Dorm – Clothes, computer, school supplies, bedding, microwave. The space will be very limited and furniture should be supplied so all you need to worry about are your personal items and bare necessities. You may have to buy new bedding since the beds in most dorm rooms are twin size. You'll probably also need to get laundry items like a basket or bag. It's a good idea to check with the facility property manager to see if there are any restricted items.
Apartment – What you need to bring will depend on whether or not the apartment comes furnished. Most of the time it's not, but there are a few that have living room furniture and beds for renters to use. When you decide to get your first apartment that's usually when you'll be buying furniture for the first time or getting hand-me-downs from your parents. If you need to buy new furniture it's best to see if you can order it online or at the store and have them deliver it to your new apartment. If not you may want to consider hiring a few Austin movers, especially if you aren't on the bottom floor.
Sorority/Fraternity House – Like the dorm room, a sorority or fraternity house will likely have most of the furnishings covered so you can leave your bedroom back at home in tact. Here there will be a full kitchen so you don't even need a microwave or mini fridge.
Home – Renting a home means furnishing the entire house from the living room to the bedrooms to the dining room. Get together with your roommates prior to the move to decide who will be bringing what. From there you can figure out any remaining items that you may need to purchase.
Moving to Austin for college is a life-changing event. No matter where you're moving or what floor you live on Square Cow Movers can help you get everything in your new home so you can start hitting the books and having fun!
Image Source: commons.wikimedia.org/wiki/File:UT_Tower_-_Main_Building_with_Bevo.JPG
Original Source: https://squarecowmovers.com/planning-a-move-to-austin-for-college/