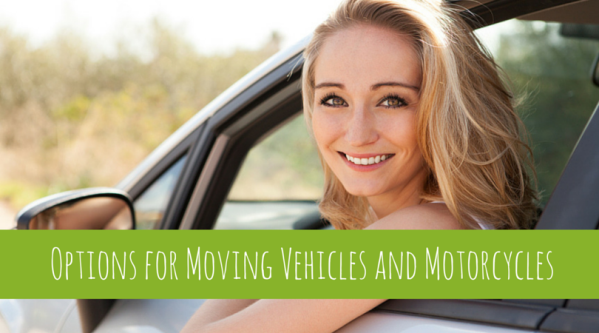 When it comes to moving motorized vehicles, there are a number of considerations that need to be made and options to choose from. Here's what our cows have learned from helping many customers decide what to do with their vehicles during a move.
3 Considerations to Make Before Moving a Vehicle
Budget – Moving a vehicle or motorcycle is going to require extra labor and equipment. While the labor may be free or low-cost, the equipment is where budget constraints could come into play.
Condition of the Vehicle – Is your car in need of repair, has high mileage or is a classic that you want to keep in pristine condition?
Size of the Vehicle – How large the vehicle is will affect the cost for some transport options, as well as whether the vehicle can tow anything else during the move.
Driving Vehicles
The great thing about motorized vehicles is that they can move themselves. This is often the method of choice, particularly if you're just making a move across town, you want to move everything at once or if you'll be arriving before your household goods. If you aren't able to drive the car yourself, you could hire someone to drive the car for you. Before doing so consider:
How comfortable are you with having someone else drive your vehicle?
Does your vehicle and the driver have proper insurance coverage?
What is the cost? You'll need to pay for fuel and possibly pay the driver for their time.
The biggest drawback of using this method is the wear and tear it can put on the vehicle, particularly if you're making a long move.
Towing Vehicles
Towing is a popular option if you want to keep miles, wear and tear at a minimum. However, there are two caveats; your vehicle may not be capable of towing a vehicle, and there will be an additional cost for the towing equipment. There are a variety of tow dollies and car carriers to choose from depending on the make, model and weight of your vehicle.
Things to consider include:
Whether you want the vehicle completely off the road.
The specs for the vehicle being towed and the one doing the towing.
Modifications and alterations that have been made to the vehicle.
What will be needed to secure and tie down the vehicle.
Shipping Vehicles
If you have numerous vehicles and/or driving and towing aren't viable options, you can ship your vehicles to the final destination. This option is also commonly used when a person purchases a vehicle from a website like eBay.
Shipping can be convenient and saves wear on your vehicle, but there are a few downsides. For starters, finding a reliable shipper in your area that has the proper operating authority could pose a challenge. Shipping is also usually the most expensive option, especially if you have a vehicle that's large. Hey, you got to pay for convenience, right?
There are a number of decisions to make if you go this route, including:
Open or enclosed carrier – Enclosed is more expensive but offers better protection.
Single or multicarrier – Multicarriers may require more flexibility on delivery, since they usually make pickups and drop-offs while en route.
Where the vehicle is placed in a multicarrier.
One additional caveat to consider with shipping is the delivery date. Unlike driving and towing, when you ship a vehicle it won't be traveling with you. You'll need to work with the carrier to ensure the vehicle is delivered when you're there to receive it.
Putting Vehicles in a Moving Truck
If you have a motorcycle, ATV or other small motorized vehicle you may be thinking of putting it on the moving truck. That may work, but only if you have enough room to tie it down, and the moving company allows the vehicle to be loaded in the truck. You'll also have to completely drain the gas and oil, because combustibles are never allowed in moving trucks. You may want to consider a cargo hauler that can be towed if you want a motorcycle or ATV to be out of the elements during transport.
Tips for Having Others Handle the Vehicle Transport
Regardless of which option you choose, if someone other than yourself is in charge of transporting the vehicle make sure they have adequate insurance coverage. Moving vehicles can be costly, but without the proper coverage it can cost thousands. Also, check with your car insurance provider to discuss how coverage is handled during a move.
You'll also need to prep the vehicle before handing it over to the movers or shipping company. We recommend that you:
Remove any valuables from the vehicle.
Carefully examine the vehicle to note if there are any existing blemishes.
Take pictures of your vehicle from all angles and email them to yourself.
Deactivate the car alarm.
Make sure the gas tank is no more than half full.
Make note of any leaks.
Remove accessories that could get in the way such as a bike rack or grill guard.
Always look the vehicle over carefully as soon as it's received. Compare the actual condition of the vehicle with what is on the inspection report. Make the delivery person aware of any damage, take pictures and report it immediately.
Square Cow Movers offers many moving services in Central Texas, including vehicle transport. Give us a call today or use the online form to get an instant moving quote!
Original source:  https://squarecowmovers.com/options-for-moving-vehicles-and-motorcycles/