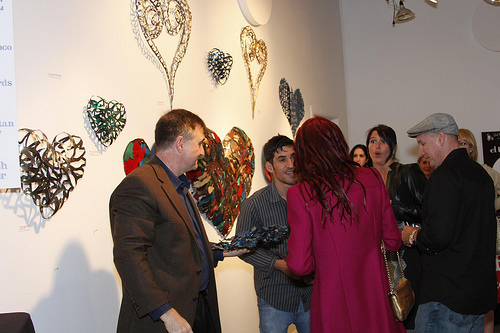 Artopia is a Houston event where culture, fashion, art, music and food meet. Entertainment at this event includes: live music, fashion shows, dance and theatrical performances and works from over 25 local artists. The 6th Annual Houston Press Mastermind Awards sponsored by Stella Atrois will also be presented at this event. With a ticket to Artopia you will be able to enjoy all the entertainment mentioned above and partake in complimentary food, wine, beer and cocktail sampling.
What: Artopia
When: Saturday, January 25, 2014 8 PM – 11 PM
Where: Winter Street Studios
2101 Winter Street
Houston, Texas 77007
Tickets: January Pricing $55.00
At the Door $60.00
Artopia is a smaller representation of the city of Houston itself! Just like Artopia, Houston is a place where culture, fashion, art, music and food meet. Get acquainted with Houston by reading some amazing facts about the arts, culture, music, food and fashion in Houston below!
Food:
There are more than 11,000 restaurants in Houston!
Houstonians eat out more than the residents of any other city. The national average is dining out 3.1 times per week, while Houstonians dine out 4.1 times per week. Luckily, for Houstonians, the average meal costs $32.53, while the national average is $35.10.
Culture and The Arts:
Over 90 languages are spoken throughout Houston.
The consular offices for 92 different countries are located in Houston.
Houston has over 500 cultural, visual and performing arts organizations. 90 of these organizations focus on multicultural and minority arts.
Houston is one of five cities in the U.S. that has year-round residential professional companies the four disciplines of the performing arts: symphony, opera, ballet and theater.
The theater district of Houston is home to eight performing arts organizations with more than 12,000 seats.
Houston also boasts a museum district with 19 museums within walking distance.
Music:
Beyonce Knowles, Kenny Rogers, ZZ Top, Lightin' Hopkins, Solange Knowles, Billy Gibbons, Kelly Rowland, Steve Earle, Hilary Duff, Haylie Duff, Nate Cole, Yolanda Adams, Townes Van Zandt, Lyle Lovett, Robert Earl Keen, Nancy Griffith, Guy Clark, Johnny Copeland, Albert Collins, Big Mama Thornton, Chris Whitley, Rodney Crowell, Chamillionaire, Mike Jones, Jack Ingram and Kenny Rogers are all musicians from Houston.
Fashion:
Janet Gurwitch, the manufacturer behind Laura Mercier cosmetics helped her brand achieve high-end status from a warehouse in Stafford, a suburb of Houston.
Gerg Rourticq, a former Carolina Herrera executive, returned to Houston to bankroll a children's clothing line, Moo Boo (and yes, we LOVE the name).
The second season winner of Project Runway, Chole Dao, lives in Houston and works on her line Dao Chole Dao (formerly Lot 8).
The iconic footwear brand, Bernardo, has been based in Houston for over 60 years. Past notables who sported Bernardo include Jacqueline Kennedy Onassis and Lily Pulitzer, while current celebrity supporters include Reese Witherspoon and Courtney Cox.
For more information: http://microapp.houstonpress.com/artopia/2014/index.php
The amazing food, art, fashion, culture and music of Houston are just a few reasons why we love this city! Do you have any awesome facts about Houston to share with us?
Facebook: https://www.facebook.com/SquareCowMoovers
Twitter: https://twitter.com/squarecowmoover
Google+: https://plus.google.com/101941814407639748249/posts
Image Source: www.flickr.com/photos/ted_viens/5403957052
Original Source: https://squarecowmovers.com/houston-press-presents-artopia