March Madness has officially started, and we're not talking about Spring Cleaning. We're talking about college basketball championships. Around the country people are getting their bracket predictions together, trying to not get distracted at work and inviting friends over to cheer on their alma mater.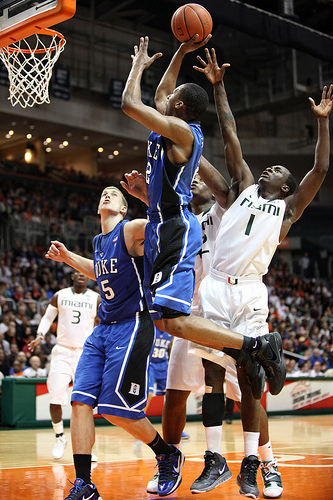 At Square Cow Movers we'll be following the action as it unfolds now that the Big 12 Championship has come and gone. Living in a college town has its perks and enjoying March Madness is one of them.
Benefits of Being in Austin During March Madness
Energetic About College Sports – In a college town there's a lot more enthusiasm for college sports in general. It's always more fun when everybody is into it and cheering on different teams.
The Championship Game is Close to Home – This year the men's final game will be played at AT&T Stadium in Arlington, TX on April 7th. Even if a Texas team isn't fighting for the championship, basketball fanatics can be there in person to see who takes home the trophy.
There are Plenty of Places to Watch the Game – College towns like Austin have a customer base that loves college sports. This isn't lost on the local businesses, which are quick to televise events and have specials centered around the sports action. It may not be quite as active as last year when UT hosted the third round Sweet 16 games, but there will be lots of ways to watch around town.
Great Catering Options for Parties – From Rudy's BBQ to Chick-fil-a to Crave Catering there are so many options for feeding guests at your March Madness party. Other than basketball all you need is some good eats to throw a memorable March Madness shindig.
The Games Can Inspire Your School Spirit – Has it been a while since you've explored the UT campus? There's so much that the University of Texas has to offer from world-class sports arenas to historic sites to art at the Blanton Museum. The enthusiasm felt for college basketball during March Madness may just inspire you to make use of the campus amenities.
Is your March Madness a move to a new place this month? Then sit back and enjoy some sports while Square Cow Movers does the work. We'll help you get things packed up, moved and into your new house in time to watch the big game from the comfort of your couch.
Image Source: flickr.com/photos/lbpressphotography
Original Source: https://squarecowmovers.com/enjoying-march-madness-in-a-college-town