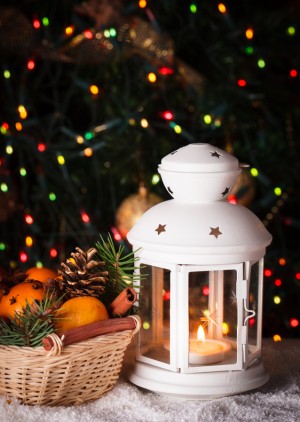 If you're making a move during the holidays, unpacking the decorations is down right counterproductive. But decorating is a big part of the holiday fun. If you still want to get in the spirit, there are plenty of ways add a touch of the holidays around your home without unpacking anything.
Scented Candles
If you only add one holiday décor element while moving, make it a scented candle. Why? All your senses help you recall memories, but scent is the strongest. The reason for this is largely due to the olfactory bulb. It helps you process smells, but it's also part of the limbic system, which is the brain's emotion center. Also in the limbic system is the amygdala, which plays a vital role in processing emotions. The olfactory bulb and amygdala are closely related, and this is why a scent can stir up such powerful memories.
A few scented candles to try:
Yankee Candle Gingerbread or Ginger Spice Cookie
Mrs. Meyer's Iowa Pine
Archipelago Botanicals Joy Gift Box Candle
Thyme's Frasier Fir Scented Candle
Pure Integrity Soy Candles Pumpkin Pie Candle
Beanpod's Roasted Chestnuts
Seasonal Produce
The holidays are all about eating, and during the months of November and December you'll see tons of seasonal produce in the grocery store. This is a perfect opportunity to buying holiday décor that you can put on display then eat before you move! Pumpkins are one of the most popular edible decorations, but you can also use fall squash, oranges, nuts or berries. Color is another way to create a holiday display with produce. Pile apples, limes, avocado and red onions together in a bowl or basket for an immediate holiday look.
Bring the Outdoors In
Holiday decorations might be right outside your door. Pinecones can be dressed up into ornaments, evergreen branches can easily become garland on a fireplace mantle and tree branches with multi-colored leaves can be arranged in a vase for a holiday bouquet.
Celebrating the holidays when you're in the middle of a move can be easy if you get a little creative. Just focus on decorations that can either be tossed before packing up or easily stored on moving day. Another way to enjoy more of the holidays is to let professional movers handle the moving for you. At Square Cow Movers packing and moving is a regular part of our holiday season, and we consider it a gift to get to help clients spend more time with their loved ones. It only takes a minute to fill out our online form and get an instant moving quote for a holiday move!
Original Source: https://squarecowmovers.com/easy-ways-to-add-holiday-decor-when-youre-moving/