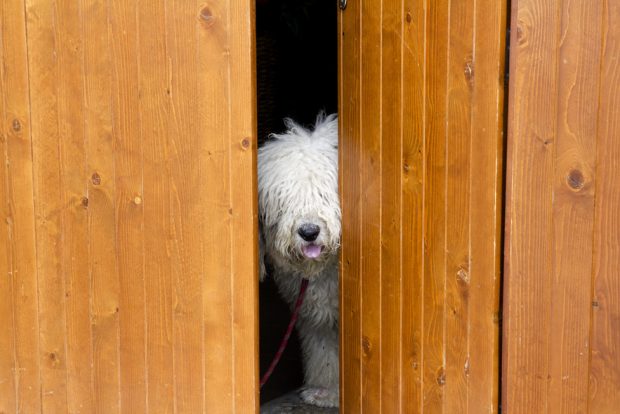 House pets live indoors, but that doesn't mean they want to stay cooped up inside all day. A doggie door is one solution that will give pets access to the outside world without the assistance of a human.
We've helped a lot of pet owners move over the years, which has given us a chance to see a lot of doggie doors in action. Here are a few do's and don'ts our professional movers have picked up along the way.
Do Make Sure It's Appropriately Sized
The majority of pet doors come in sizes that range from 5-23" high. That's a huge range that can accommodate the vast majority of pets. Look for a model that is about two inches taller than your pet's shoulders. This will ensure they can go in and out easily. The door will also have to be wide enough for the animal's shoulders to fit through with an inch or so of space on either side. If you've got a puppy, err on the side of caution and go with a large door. 
Don't Use a Doggie Door That Doesn't Lock
A doggie door means there's an extra point of entry in and out of your home. Even though it's a small door, if it doesn't lock, the door can compromise security. If you're buying a home and the doggie door is broken or not working properly request that the owner replace it before the closing. If you're renting get the landlord over to take a look and work out a fix before moving day.
Do Use a Doggie Door You Can Monitor Remotely
These days smart home features aren't the way of the future – they are on shelves and in-demand. Doggie doors like the Passport Pet Access Smart System Door allow you to monitor when animals go in and out via your smartphone. That way it can be monitored just like the other doors and windows around your home.
Do Consider a Limited Access Pet Door
Worried about wild animals finding their way into your home? There are pet doors that work in conjunction with sensors attached to a pet's collar. The door will automatically unlatch for your pet while keeping all other animals outside where they belong. If you have small children, this is the best option so you don't have to worry about them getting outside on their own.
Don't Forget to Seal Around the Edges
Another door means there is another way for air leaks to form. The edge around doors is one area where climate-controlled air leaks out and hot or cold air comes in. Air leaks can waste a lot of energy over time and affect the comfort inside, which is why doggie doors with a flap aren't recommended.
Check around the edges of the door to see if light is penetrating through. If so, use caulk to seal around the edge and plug up the leaks.
Do Carefully Consider Where to Locate a Pet Door
If you plan to install a pet door in your new home weigh all of your options before selecting a location. Ideally the door would be off of a patio or porch so your pets don't track in a mess. The material that the door is being mounted to can also affect your product options.
Don't Forget to Factor in Installation Cost
The price of the pet door is just one part of the overall cost. Installation is a separate cost that could end up being more than the door depending on where you put it. For example, a doggie door that's installed within a sliding glass door will cost significantly more to install than one that's mounted on a standard door.
Do Opt for a Bite-Proof Pet Door
Even if your dog doesn't chew on things, a bite-proof door is usually a good option. Because they are constructed with heavy-duty materials, they tend to be more energy efficient and durable. They'll be able to handle animals that like to claw things, pets knocking into them daily and constantly being opened and shut.
At Square Cow Movers we obviously love animals and know how to herd them to their next location. If you need to make a move in Central Texas or the Denver metro give us a call. You can also use the online form to get an instant moving quote – no commitment necessary!
Original Source: https://squarecowmovers.com/doggie-door-dos-donts/