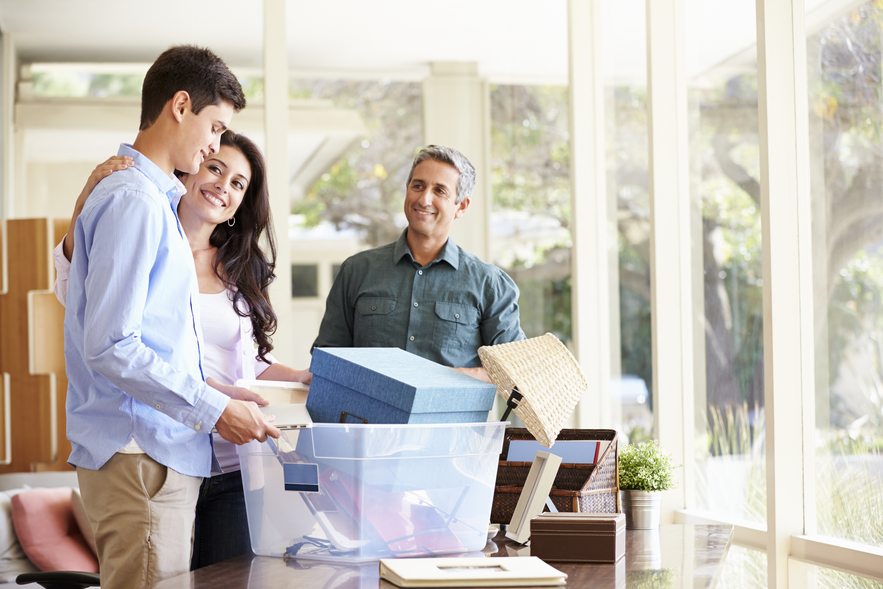 We've learned a lot about the human condition over the last eight years. Helping hundreds of families move has given our moving bovines a unique look at all of the emotions and situations surrounding major transitions in life. And it doesn't get much bigger than helping a kid move away for college.
Saying good-bye to your child, especially if it's their freshman year, is extremely difficult mentally, physically and emotionally. Getting through the move isn't easy, but the advice below can help soften the blow when your bird flies away from the nest.
RECOMMENDED READING: 15 Dorm Room Essentials Every Freshman Needs
Remember, You've Still Got a Lot to Teach Them
One of the knee jerk reactions when your kid goes away to college is the thought that your little baby no longer needs you. They'll be on their own making their way in the world without your supervision. Scary – yes, but it's also the natural order of things.
Just because your kid is going to be living outside of your home doesn't mean they don't still need your guidance. On the contrary, many kids end up realizing just how much help they got from their parents once they are on their own. Don't be surprised if you get frequent calls asking for your advice or instructions on how to do something.
Use the summer before the move as an opportunity to teach them vital life skills they may not already know, like doing laundry and using public transportation. It will be a good reminder that you still have decades of experience that your kids can learn from.
Don't Get Offended If Your Kid is Elated
For your kid moving away to college signifies that life is beginning. For you it's like a huge chapter in life is closing. They see nothing but exciting opportunity, and you feel nothing but dread. You'll likely be weighed down with a smorgasbord of emotions, but it's important to keep in mind that they too have a lot going on in their head and their heart.
Under the outward signs of excitement and hope there's sure to be anxiety and doubt. Reassuring your kid that they'll be okay on their own can help calm their fears and also help you come to terms with the transition as well.
Let the Move Be a Much-Needed Distraction
Moving is a tedious task and for once in your life the extra work can be a helpful distraction. All of the planning, packing and checklists can help you keep things in perspective and give you something to do beyond worrying every moment of the day.
However, it's still a good idea to hire a moving company so you can spend as much quality time with your kid as possible before the move.
Don't Let Their Absence During Summer Send You Into a Downward Spiral
It's not uncommon for teens to go AWOL the summer before they start college. They'll be spending just about every waking minute with their friends and/or their boyfriend/girlfriend. Their reasoning is that they are sure to see you again, but seeing their old high school friends isn't going to be a sure thing.
Disconnecting from family is also a way for teens to cope with the move. They may not ever admit it, but they are going to miss you as much as you're going to miss them.
It's important to give them a little space so that arguments don't ensue. You don't want the last weeks that you're all together to be a constant battle over where they're going and when. Instead, schedule time together and make it clear that attendance is required. You can also offer to let your kid invite their friends over so they're at least around while they hang out.
Take a Family Vacation
There's no better way to spend quality time together as a family than by taking a vacation. It may be your last opportunity to take a trip with everyone in tow and make memories they'll carry with them to college. It's also a great way to take a break from the moving preparation and unwind for a few days.
Have a Sit Down Discussion About Expectations
Just because your kid is out of the house doesn't mean they are completely off on their own. There's a good chance you'll still be footing the bills and providing a place for them to stay during breaks.
It's important to have a serious discussion about expectations. One of our worst fears is that our college kid will make big mistakes that will negatively impact their future. The fact is most kids don't do as well academically their freshman year because they are adjusting to their new lifestyle and responsibilities.
Lay out a budget that specifies who will pay for what and how. It's also a good idea to discuss academic expectations so they know you're holding them accountable.
Celebrate Before Moving Day
Starting college is an event that calls for a celebration. As sad as it is to see one of your children go off on their own, it's also equally rewarding to know how much they've accomplished. Before the big day throw a going away party so all your friends and family can get together to congratulate your kid and say good-bye.
A child going away to college is almost as momentous as when you bring them home from the hospital. At Square Cow Movers were a family-owned company that understands and respects the fact that moving can get emotional. We do everything in our power to take the burden off our clients so they can focus on family needs and the future.
Give us a call or use the online form to get an instant moving quote!
Original Source: https://squarecowmovers.com/coping-college-move-tips-parents/