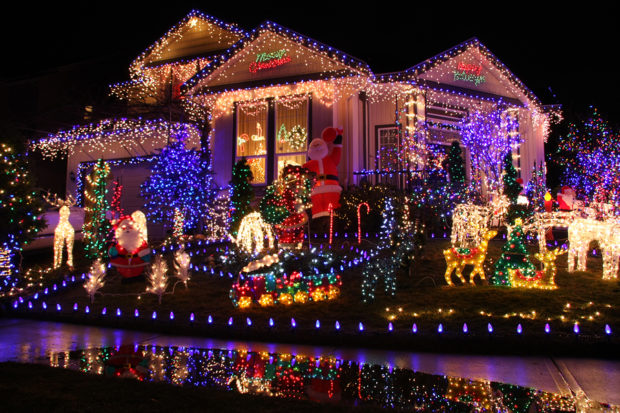 To say that people in Phoenix go all-out for the holidays is a serious understatement. There are well-known, extremely well produced professional displays at the Phoenix Zoo and Downtown Glendale as well as events like Lights of the World. But the local residents also get in on the holiday cheer.
Load up the family, grab yourself a thermos of hot cocoa and cruise over to these Phoenix neighborhoods to find homeowners that give Santa's elves a run for their money.
Add These Phoenix Neighborhoods to Your Holiday Lights Tour
EAST VOLTAIRE AVENUE
Last year the stretch of street from 4600-4800 E. Voltaire Avenue had at least 20 homes that participated in a coordinated display. It became an area attraction almost immediately. The fantastic displays were synched with holiday tunes on the 98.1 FM radio station. As you drive by you can tune in for an all-around audiovisual experience.
It was such a hit last year, the E. Voltaire Ave. displays are all but certain to be back this year. Make sure to go by before 10:30pm when the homeowners start turning off the lights.
PINCHOT AVENUE
From 26th to 28th Street on Pinchot Avenue the road is lined with illuminated candy canes that are regular palm trees during the rest of the year. It's a time-honored tradition that the local homeowners have kept up since 1988. On the weekend there are also block parties with outdoor screenings of holiday movies.
SAN TAN VALLEY SUBDIVISION OF PECAN CREEK SOUTH WAVERLY
It's a bit of a haul from central Phoenix, but once you're at the Pecan Creek South Waverly in San Tran Valley you'll be glad you made the trip. About 80 homes participate in what's known as the Loop of Lights. People also decorate vehicles, a fire truck and a horse-drawn carriage.
Prepping for a Light Display of Your Own
Do you want to be among the homeowners that swell with pride as people drive by admiring the DIY light display? The homeowners in the neighborhoods above can tell you that it takes a fair amount of preparation to create a display that stands out.
Plan Well in Advance – You'll need to come up with a design concept, make measurements and get supplies before you can start creating the display.
Make Sure You're Not Overloading the Electrical – Anything involving electricity can be dangerous, especially if the juice is overflowing. Know the limits for what you're system can handle.
Follow Holiday Light Best Practices – There's the right (a.k.a. safe) way to hang lights, and there are the wrong ways to hang lights. Follow these holiday decoration safety tips from the Consumer Product Safety Commission when you're putting up lights.
Install a Timer – During the busy holiday season you don't want to have to worry about running home to turn the lights on or off when a timer can do it for you.
At Square Cow Movers we're experienced in helping families move during the holidays. Our moving bovines can handle the heavy work so you can focus on enjoying holiday traditions. Get an instant moving quoteonline!
Original Source: https://squarecowmovers.com/best-phoenix-neighborhoods-holiday-lights/