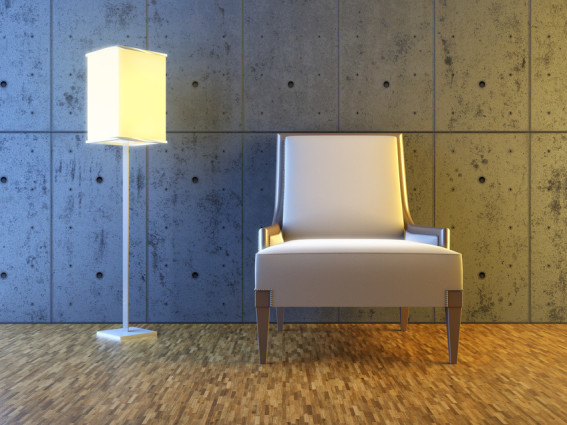 Since moving to a new home gives you a chance to inventory everything and decide what to keep, what to get rid of and what to add, it's a great time to think about your furniture options. Timeless furniture pieces are almost always worth investing in and can tie everything together in your new home. There are also some new concepts and designs that are getting homeowners excited in 2016.
Wireless Charging Furniture
The latest furniture designs are a true testament to our love of electronic devices. People hate wires, which is why more phone makers are playing around with models that completely rule them out. Furniture makers like FurniQi are ready for the transition. They have created pieces that have wireless charging stations built right into the furniture. Even IKEA has a charging nightstand and the RIGGAD work lamp with a wireless charging station built into the base.
Bold Tuxedo Black Accent Pieces
Going trendy with permanent home décor can be risky, but furniture can be easily replaced so it's a great way to work in on-trend design elements. One of the latest bold décor trends is furniture constructed with black glossy accents and blond wood finishes. It's being dubbed "tuxedo style" by Elle magazine's décor team. Just like the clothing, we can see this easily becoming a classic.
Blend Stone, Metal & Concrete Furniture With Plush Fabric
If you want furniture that's going to stand the test of time consider new designs that use metal, stone and concrete in place of plastics and wood. These are especially good options for outdoor furniture sets where the elements can quickly take their toll. When these materials are paired with plush fabrics it helps to soften and warm up the hard bases.
Space Savers
The practicality of a space saving piece of furniture will never go out of style. Convertible couches that double as beds have found their way into more homes over the last few decades. One of the more recent space saving trends is desks that are affixed to the wall and fold down out of the way. These pieces can also work as a small table for a breakfast nook or studio apartment.
Furniture With Organic Elements
Pieces with modern, geometric shapes are going to be big in 2016, but organic style has proven to be timeless. Living edge tabletops and furniture that lets the wood grains show through are back again and better than ever. Fabrics are also going all natural with wool, cotton and hemp becoming the standouts. These are materials that have been used for centuries and when maintained look great for generations.
Need help moving your new furniture into your new home? Square Cow Movers knows how to get even the oddest shaped furniture through any doorway. Give us a call to talk with a moving consultant or fill out the online form for an instant moving quote!
Original Source: https://squarecowmovers.com/5-pieces-of-furniture-to-invest-in-for-your-new-home/