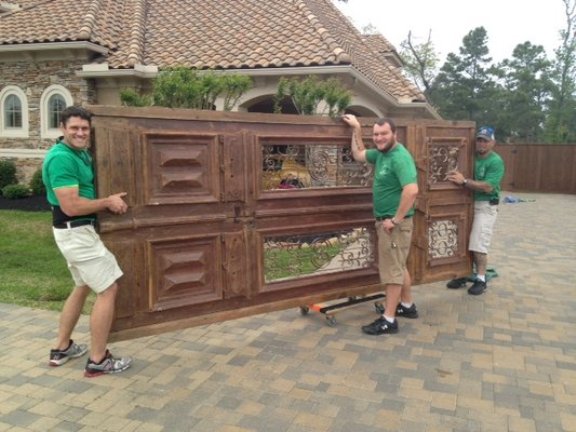 There's no denying that people acquire a lot of stuff in life. When you're a professional moving company you see lots of standard home items; furniture, clothing, family photos. Then there are the moves that catch us by surprise. Everything will be going along like clockwork and then BAM, we come across a completely off-the-wall item that has to be loaded onto the truck.
Sometimes the item is just logistically strange, like trying to figure out how to get an oddly shaped desk through the front door. Other times the item is just bizarre. If you've ever wondered about the strange things that movers see while helping people move all their stuff keep on reading.
Usually Doors Stay With the House
We're used to moving things out of the house, but once we were asked to move a part of a property. Square Cow mover Chris remembers a move last year when the team in Spring, TX was asked to move an antique wooden church door. "This thing was massive," said Chris. Pictures on the Square Cow Movers Yelp page show just how beautiful and humongous the door was. It took three of our moving bovines to get the 12′ (or more) door loaded up.
Anything But Ordinary Statues
Artwork is often interesting. Everyone has their own tastes, and usually what we move is pretty tame. But as Derek Mills recalled, once we were hired to move a few of the Austin CowParade Cows. If you've lived or visited Austin you've probably seen one or two of the colorfully painted cows, which are stationed throughout the city.
Then there was the time that we moved a life-sized statue . . . of the customer.
Taxidermy Treasures
In Texas it's not uncommon to move taxidermy trophies that commemorate a successful deer hunt. But we've also seen lots of odd, really large taxidermy items. We've moved more stuffed lions than we ever thought possible. Luckily, we haven't come across any cows yet.
The Incredible Ice Move
Square Cow Movers owner Wade Lombard has seen it all while moving. But it wasn't until a few months ago that he felt challenged by what had to be moved. "We moved 30,000 pounds of ice," Wade recalled. "That's scary; mostly because the inventory literally melts between the load and unload." Good thing the move wasn't during the sweltering summer.
Got a strange item that needs moving in Central Texas? Give Square Cow Movers a call! We're not afraid of moves that are out of the ordinary. Our team of moving experts can figure out how to move odd items of all shapes, sizes and physical states.
Original source: https://squarecowmovers.com/4-strangest-things-square-cow-movers-has-ever-moved/