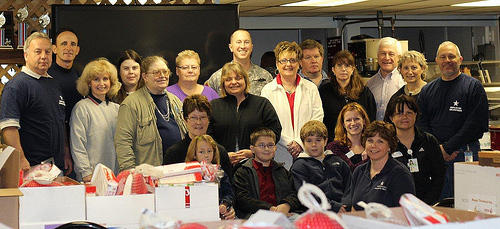 We look to great thought-leaders to inspire our daily routines. Their larger than life examples can help us make a small difference in our own communities. Some of our favorite quotes are:
"We make a living by what we get, but we make a life by what we give."- Winston Churchill
"Life's most persistent and urgent question is, 'What are you doing for others?'" – Martin Luther King, Jr.
"It is not fair to ask of others what you are not willing to do yourself." – Eleanor Roosevelt
One of the small ways that we can do for others and give back is through volunteering! Austin is a growing city with abundant volunteer opportunities to match a wide variety of interests. The diversity of volunteer opportunities is really incredible. Let us help you get connected with your community by suggesting some great places where you can volunteer in Austin.
Want to volunteer as a family with your young children? Check out Little Helping Hands, this website keeps an activity calendar of events around Austin where whole families (little ones included) can volunteer. http://littlehelpinghands.org/
If you love nature and want to spend more time outdoors, consider giving your time to Keep Austin Beautiful (http://www.keepaustinbeautiful.org/volunteer) or participate in one of the Austin Parks events (http://www.austinparks.org/calendar.html).
Food lovers who want to get their hands dirty and maybe even take home some farm fresh produce themselves, should check out the volunteer opportunities at Johnson's Backyard Garden. https://www.jbgorganic.com/volunteer
People volunteer with their kids all the time, if your kid is furry and walks on 4 legs, what's keeping you from volunteering with your dog? Therapy Pet Pals is a great organization that trains pets and their owners so they can then visit medical facilities like nursing homes and hospitals to spread a little love. http://www.therapypetpals.org/
If you excel in one-on-one situations and want to work with the youths in our community, consider signing up for The Boys and Girls Clubs of Greater Austin (http://bgcaustin.org/Volunteer.html), Big Brothers, Big Brothers Big Sisters of Central Texas (http://www.bigmentoring.org/site/c.bkLVKdOQLjK6E/b.6458477/k.635/Big_Brothers_Big_Sisters_of_Central_Texas.htm), or Breakthrough Austin (http://www.breakthroughaustin.org/get-involved/volunteer). These programs are dedicated to helping young people achieve success through education and the positive involvement of individuals like you!
Volunteering doesn't always mean handing out food, picking up trash or working in a school, if you are open-minded to different volunteer opportunities, you may be surprised! Whether your interest is music, culture, film, fashion or the rodeo, you can find the perfect fit. Austin always needs volunteers to help with different events like South by Southwest – SXSW, The Austin Film Festival, Austin City Limits – ACL, Austin Fashion Week, and Rodeo Austin.
Where do you and your family volunteer in the Austin area?
Facebook: https://www.facebook.com/SquareCowMoovers
Twitter: https://twitter.com/squarecowmoover
Google+: https://plus.google.com/u/0/101941814407639748249/posts
Image Source: www.flickr.com/photos/panationalguard/6389929133
Original Source: https://squarecowmovers.com/where-to-volunteer-in-austin