Christmas is a little over a week away and your family members, friends and out-of-town guests will be arriving soon to celebrate the holidays with you. Is your house ready? Don't worry if it's not! In addition to all the holiday shopping, wrapping, decorating and baking, we know that near the end of the year we are all pressed for time. Here are seven mini-projects to help you ready your home for holiday company in a jiffy!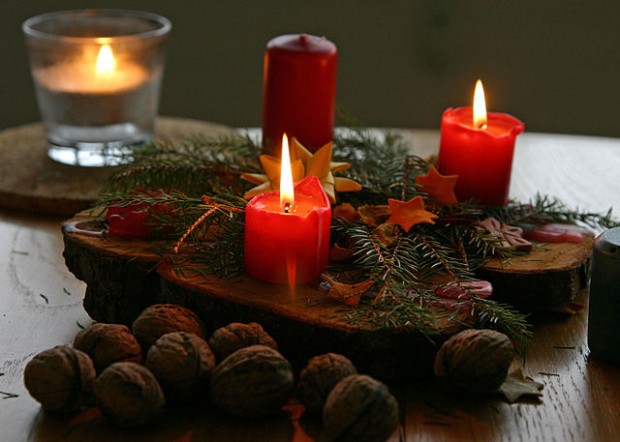 Sparkle – Make your home sparkle by executing a quick cleaning of all the glass and mirrors. Some paper towels or microfiber cloths and your trusty glass cleaner are all you need in your arsenal to complete this mini-project. Make a quick run through your house swiping mirrors, glass tables and windows as you go.
Aroma – One of the quickest ways you can create a Christmas atmosphere in your home is to introduce a new scent! A few minutes before your company is set to arrive, light a candle. There are so many delicious holiday scents to choose from: warm baked cookies, cinnamon and sugar, bayberry and fresh cut pine, to name a few.
Wrap It Up – Even if you plan ahead, there is always some last minute wrapping that takes place. Anticipate this event by readying your wrapping paper. Store long wrapping paper tubes in a tall basket and gather the ribbons, tape and scissors into one central place like a drawer of another container. Your wrapping paper and ribbons don't have to be hidden, they can become part of the holiday decor.
Clean and Bright – What did the bathroom look like the last time you went to a hotel? Recreate this look in your own guest bathroom. The guest bathroom is one of the places guests will most definitely see. Store the extra junk on the counters under the sink, and wipe down the counter, toilet, tub and sink. Now is the time to pull out all those miniature soaps you have stockpiled. Arrange the little bottles in a basket, add a few folded wash clothes and you have fancified your guest bathroom.
Create a Collection – If you are lacking a centerpiece or have bric-à-brac scattered throughout your house, consider creating a collection. Simply find like objects and group them together. Your collection could be candlesticks, vases, things that are white, etc.
Welcome – The first space your guests will see is your porch and entryway. Clear away extra shoes, the mail, bags and anything else cluttering these areas. Sweep off the front porch, dust off the welcome mat, hang a wreath, and your hallway is holiday ready.
Spruce Up Your Coffee Table – Let your creative side take over this mini-project to transform your coffee table from merely a place to set drinks to an artistic place to rest your eyes. A stack of books, a tray, a candle or a few small interesting objects arranged neatly can help give your coffee table some style.
Now you are ready to welcome the holidays into your home! What's next?
Image Source: commons.wikimedia.org/wiki/File:Christmas_candles.jpg
Original Source: https://squarecowmovers.com/welcome-the-holidays-into-your-home