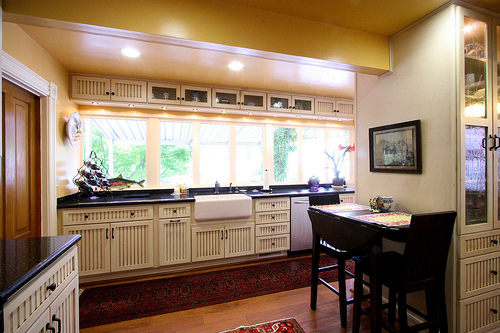 In light of National Child Safety Month we're providing homeowners with information on the best ways to keep kids safe while they're in the house – especially around the holidays. Even if you don't have kids of your own when you have family over for Thanksgiving you should take steps the keep dangerous items from getting in their small hands.
Storage Tips for Dangerous Items
Firearms
Each year thousands of kids are injured with firearms and more than 100 kids under 12 years old are killed. Hiding guns will only make it more difficult for kids to find them. It is vital to practice safe storage if firearms are kept in your house.
You must have a locked box or case to ensure guns are kept out of the reach of children. Don't keep the key near the gun cabinet or lock box. Preferably you should keep it with you at all times. Another safety precaution is to never keep loaded guns in your home and store bullets in a different location from the guns.
Knives
Kitchen cutlery, pocketknives and tool blades serve a purpose but they can also pose a threat. Knife holders should be pushed back against the wall rather than closer to the edge of the counter top. Better yet keep them in a locked drawer or cabinet at adult height level or higher. Keep shop knives on high shelves where they can't be seen.
Matches and Lighters
A fire can destroy a home and lives in an instant. Kids seem to have a natural wonder about fire even when they know it's dangerous. Don't be fooled into thinking that toddlers can't figure out how to make a lighter or match work. Keep fire starters in a safe place out of sight where kids can't easily get to them. Storing them in a waterproof container is also a good idea to prevent them from getting wet in case you need to use them.
Cleaners
Most of us keep cleaners under the sink where they are out of sight and out of mind when they're not being used. But that doesn't mean a curious kid won't come across them.
Instead of putting cleaners down low under the kitchen and bathroom sink consider putting them on a shelf or in an upper cabinet in your laundry room or the garage. Also put child safety latches on the cabinet doors where cleaners are stored, especially if you don't have access to the spaces suggested here. From the get-go you can be safer by purchasing cleaners with childproof lids.
Medications
Medicines can look just like candy to a small child. With today's coatings and flavor add-ons the problem is even worse. Even low-dose OTC painkillers should be kept far out of children's reach in a cabinet high off the ground and on a shelf that can't be reached even if a child climbs on the countertops. Put a child safety lock on the cabinet, but if you can get a traditional lock for the cabinet that is preferable.
Child Safety Tips for Around the Home During the Holidays 
There are few other items that are out and about during the holidays that you have to look out for if kids are in your home.
Holiday plants – Many of us dress our homes up for the holidays using festive plants. The problem is some of them can be toxic to humans and animals. Mistletoe, pine needles, holly and poinsettias can all cause problems if consumed.
Cords – With all the lights, moving figurines, etc. there are likely to be more cords lying around than usual. These can pose a choking hazard if kids get them wrapped around their neck, and they can trip up anyone. Gather up any slack in cords and secure them with a zip cord.
Hot Ovens – Cooking is an inherent part of the holidays. When the kitchen is busier and a little more chaotic it's easier for little ones to hurt themselves. Keep pots on the back burner whenever possible and turn handles inward rather than outward towards the edge. Also invest in an appliance latch to secure the oven door.
All of us at Square Cow Movers want you to have a safe and blessed holiday season, so start organizing your home now so your ready to celebrate with family and friends.
Image Source: www.flickr.com/photos/blineconstruction/5204314033
Original Source: https://squarecowmovers.com/make-your-home-safer-for-kids-part-2-preparing-for-the-holiday-season