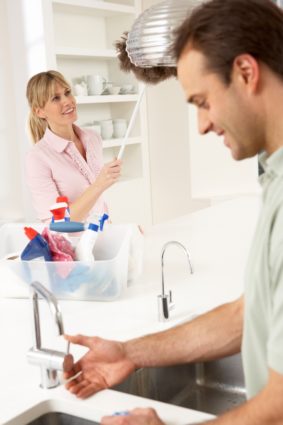 One of the less glamorous parts of moving into a new home is cleaning up your old house. But if you want to get your entire security deposit back or have to make the home ready for sale it's a necessary part of the process. However, a standard cleaning job usually doesn't cut it. What you need is a "make ready" cleaning.
When you need to do a thorough make ready cleaning here are the essential steps to take.
Start at the Ceiling and Work Your Way Down
You read that right. When you take a close look, you may be surprised at how much dust collects in the corners around the ceiling, especially if you've got popcorn texture up there. Of course, spiders also like to build their own homes around the edge of the ceiling.
The primary reason to start at the ceiling is some of that dust and dirt will drift down. If you've already cleaned the rest of the room you may undo all your hard work. While you're up on the ladder dusting, two other spots to hit are the ceiling fans and trim above the doors.
Strive for Squeaky Clean Windows
A spot that regularly gets bypassed during routine cleaning is the windows. When a landlord does a walk through that's one of the first places they'll look to gauge how well the house was cleaned. Buyers also like to see the views so there's a good chance they'll notice dirt and dust around the windows.
Getting squeaky clean windows requires a three step process:
Clean the glass of the window on the outside.
Clean the glass of the window on the inside.
Dust and wipe down the entire window surround on the inside.
Get in the Grout
During a regular cleaning, wiping down the shower and tub is usually sufficient. But for a truly deep clean you'll need to get in the grout.
Grout cleaning can be a tedious task. You can make it a little easier on yourself by using a baking soda and vinegar solution.
First create a paste with baking soda and water.
Apply the paste to grout lines and let it sit for a few minutes.
While you wait fill a spray bottle with a half and half solution of white vinegar and warm water.
Spray the white vinegar solution on the paste. Within seconds it will start to bubble.
After it stops bubbling scrub it clean with a bristle brush.
Rinse the area with water and you're done.
Kill All Mold and Mildew
Nothing will ruin a make ready cleaning like leaving mold and mildew behind. It tends to be a problem in areas with a lot of moisture like the bathrooms. Cleaning mold and mildew is a little different since it's actually a living organism.
The first step to getting rid of mold and mildew is to kill it. That requires bleach. For mild mildew and mold problems you can apply the bleach directly to the area, let it sit for about a minute and them scrub the blackness away with a toothbrush or bristle brush cleaner.
If you've got heavy mold and mildew you may want to try this trick. Create a mixture of bleach and baking soda and keep adding baking soda to the bleach until it makes a paste. Using a small paintbrush apply the paste to the moldy areas. Let it sit for 10 minutes or so before wiping it off. Follow up with a light scrubbing and you should have a nice, clean surface.
Clean Appliances Inside and Out
It's easy to forget that landlords and buyers will open up appliances to get a look inside. For a true "make ready," cleaning appliances will need to be scrubbed down inside and out. Just be careful to use non-abrasive sponges on the exterior surface so you don't scratch the finish.
Shampoo the Carpets
With a make ready cleaning job simply vacuuming carpet won't do. To really get the dirt and smells out of carpet you'll need to shampoo the floor. The good news is you don't have to hire a professional for the job. Most local grocery stores and big box stores like Walmart rent out carpet cleaners that are easy to use.
Finish Up By Cleaning Around the Baseboards
Some people make the mistake of cleaning the baseboards before cleaning the floors. The problem is sweeping, vacuuming and mopping can cause dirt and dust to kick up on the baseboard as you clean.
For that reason, you'll want to save the baseboards until after you've done the floors. Using a damp, lint-free cloth or paper towel, go along the baseboards wiping them down from top to bottom.
Don't have time to tackle the make ready cleaning and moving all of your things? Let Square Cow Movers handle the move for you. Our team offers affordable packing services that will get everything out of your way and we can transport your belongings across town or across the country. Give us a call today to talk with a moving coordinator.
Original Source: https://squarecowmovers.com/thorough-deep-clean-leaving/