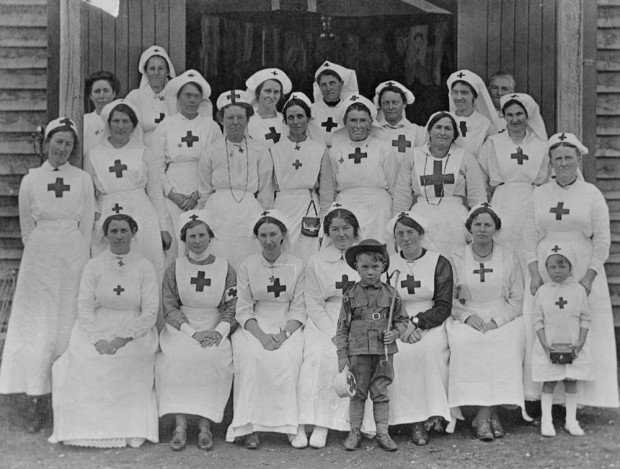 March is both Women's History Month and Red Cross Month, so it seems only fitting that a woman, Clara Barton, founded the American Red Cross.
Clara Barton served as a nurse on the front lines during the Civil War after an earlier career as an educator and a clerk in the U.S. Patent Office. After the Civil War Barton ran the Office of Missing Soldiers. While traveling in Europe after the Civil War, Barton became acquainted with the Swiss-inspired global Red Cross organization. In 1881 she was finally successful in founding the American Red Cross with a circle of her acquaintances. Barton was able to convince President Chester Arthur that an organization such as the Red Cross would not only be helpful in a time of war but that the organization could also respond to other crises such as earthquakes, forest fires and hurricanes. During her time as a leader in the American Red Cross in the late nineteenth century, Barton traveled extensively to the sites of crises, wars and natural disasters across the United States and the world. In 1900 at the age of 79, Barton made her last field operation as President of the American Red Cross to Galveston to help the victims of the Galveston hurricane.
The American Red Cross Greater Houston Area Chapter was established in 1916. This chapter serves over 6 million people in the Houston area, along the coastline in Galveston and Brazoria Counties, as well as Harris County and both suburban areas and small towns. The four main services the American Red Cross Greater Houston Area Chapter provides include: assistance for Military Personnel and their families, Health and Safety Courses, Disaster Relief and Preparedness and Transportation.
This chapter was very active during large disasters like Hurricanes Katrina, Rita and Ike, but provides daily assistance like transportation for the elderly or helps flood or fire victims receive, food, shelter and essential medications. The Houston Chapter of the Red Cross also helps prepare people for emergency situations by offering classes in First Aid, CPR, Swim Lessons and Lifeguard Training.
There are tons of ways that you can get involved with the Red Cross in your community! You can donate blood, donate funds, fund-raise, volunteer, be an advocate, get involved with a group or program like the Ready Rating Program or School Clubs, take a class in CPR, First Aid, Babysitting, Lifeguarding, First Responder or Nurse Assistant Training. You can find out more about the American Red Cross Greater Houston Area Chapter here: http://www.redcross.org/tx/houston
Image Source: commons.wikimedia.org/wiki/File:StateLibQld_1_107180_Red_Cross_Society_in_Biggenden,_1918.jpg
Original Source: https://squarecowmovers.com/the-red-cross-of-houston/