August in Austin can make it seem like Hades headed north for the summer. Six years ago city patrons decided it was time to make the most of the steamy situation by putting on an event that can make even the hottest day more enjoyable. The 7th Annual Austin Ice Cream Festival is sure to be the sweetest retreat from the heat you'll have all month, so all of us at Square Cow Movers wanted you to know about the tasty event!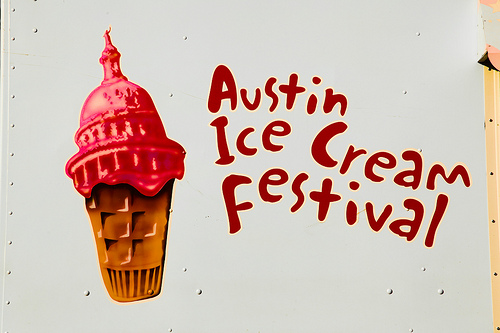 The Sweets and the Eats
The most important thing you need to know is that ALL THE ICE CREAM IS FREE. You read that right. If you have an uncontrollable sweet tooth, now is not the time to try and tame it. Last year there were over 19,000 samples to enjoy so indulgence is in order.
If you're looking for something a little more savory (or less sticky sweets) the festival will have a full lineup of food vendors. Sorry no outside food or drinks are allowed into the festival. But with that much ice cream you might not be able to eat a bite of anything else all day.
Ice Cream Entertainment
It wouldn't be an Austin food festival without a contest or two. This year anyone can enter one of three main events.
Homemade Ice Cream Making Contest
This ain't a contest for the plain vanilla type. This year contestants can pre-make their ice cream concoctions so the sky is the limit. Slap down your $20 entry fee and be there by 2pm to get ready for the judging.
Popsicle Stick Sculpture Contest
At the Austin Ice Cream Festival you can apply what you learned from all those elementary school arts and crafts projects at the Popsicle Stick Sculpture Contest. This contest is free to enter and sculptors of all ages are encouraged to take part. You can create your masterpiece before the festival or while you're there enjoying the ice cream.
Ice Cream Eating Contest
There's sure to be brain freeze and a lot of fun whether you're a contestant or spectator at the Ice Cream Eating Contest. If you're crazy about ice cream and have a brain that's built like an Eskimo, enter for a chance to best the likes of World Champion Eater Joey Chestnut by downing a gallon of ice cream. Registration for the event is on the day of the festival at the contest table. Bring cash for the $10 entry fee.
Don't forget Austin is the 'Live Music Capital of the World'. No festival is complete without some tunes to entertain the crowd. Six different local talents will take the stage throughout the day including Tori Martin and The Bellmen.
The Details
When: Saturday, August 17, 2013
10am – 7pm
Where: Fiesta Gardens
2101 Jesse E. Segovia St.
Austin TX, 78702
How: $10 gets you in and all the ice cream you can eat
Kids under 8 get in FREE
First Image Source: everydayminerals.com
Second Image Source: superstitionfarmtours.com
Original Source: squarecowmovers.com/take-a-sweet-retreat-from-the-heat-at-the-austin-ice-cream-festival