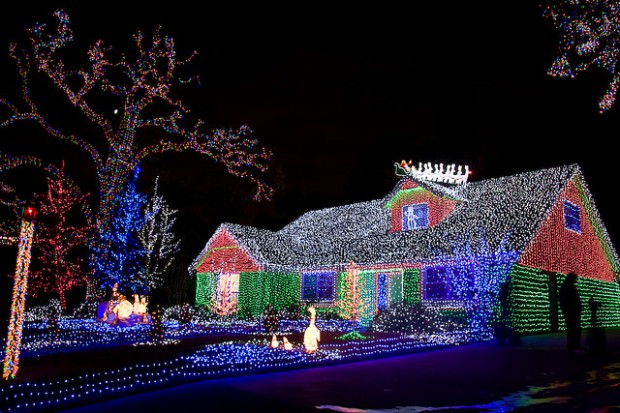 Every year the holidays hurry by in a flurry of shopping for gifts, baking cookies, company Christmas parties, family gatherings, school concerts with holiday-themed music, traveling to Grandma's house and all the hustle and bustle that goes along with the end of the year. Don't let the holidays pass you by without carving out some time for meaningful activities with your family! Mark your calendar and don't miss these Christmas events in Houston.
Yuletide: Holiday Time at Bayou Bend (December 1 – December 31)
The Bayou Bend Collections and Garden is transformed into a holiday display of lights and Christmas-themed decor. The rooms in this historic house are decorated to reflect the holidays in different time periods. The historical time periods represented include moments from the 17th century through the 20th century. Guests can tour the home and enjoy costumed performers, puppets, period games, storytellers, refreshments, live music and an outdoor photo station.
http://www.mfah.org/visit/bayou-bend-collection-and-gardens/
Festival of Lights at Moody Garden (December 12 – January 4)
The 12th Annual Festival of Lights contains more than one million lights and is an area favorite. Families can view the holiday light display, skate on the outdoor ice rink, take pictures with Santa, ride on the train, or take a turn on the ice slide!
http://moodygardensattractions.web05.i-sites.com/FestivalOfLights/
5th Annual Gingerbread Build-Off (December 14)
The Architecture Center Houston partnered with C2 Creative to host the Gingerbread Build-Off. This event will be held at City Hall's Herman Square. Kids are welcome to watch, but this competition isn't for the kiddies! Teams are composed of architecture firms, design professionals and other structural enthusiasts. Come out and view these amazing masterpieces created with only edible materials.
https://aiahouston.org/v/site-home/Gingerbread-Build-Off/39/
Caroling on the Square-Waterway Square (Saturdays in December)
On Saturdays in December strolling entertainers, local artists and choirs entertain crowds at Waterway Square. This concert series is a great local option for holiday music.
http://www.thewoodlandscvb.com/pages/TWCVBEvents/CarolingontheSquare/tabid/95/Default.aspx
Zoo Lights (November 22 – January 4)
While there are many light displays during the holiday season, few can also boast live animals! Your family can view cougars, jaguars, lions, ocelots, leopards, giraffes, reptiles and amphibians. Other attractions at Zoo Lights include: the enchanted forest, animal sculptures, holiday trains, a dollhouse village and a 1957 Cadillac with thousands of lights that dance to joyful music.
http://www.houstonzoo.org/zoolights/
A Christmas Carol (November 17 – December 26)
This holiday season the Alley Theatre presents A Christmas Carol – A Ghost Story of Christmas. If your family has outgrown the The Nutcracker, opt for this Dickens classic. While the same powerful message of redemption and the true spirit of Christmas remains, there is an unusual modern twist on the ghosts of the past, present and future.
http://www.alleytheatre.org/alley/default.asp
What is your family's favorite holiday event in Houston?
Facebook: https://www.facebook.com/SquareCowMoovers
Twitter: https://twitter.com/squarecowmoover
Google+: https://plus.google.com/101941814407639748249/posts
Image Source: www.flickr.com/photos/danielray/3109445810
Original Source: https://squarecowmovers.com/square-cow-movers-guide-to-christmas-in-houston