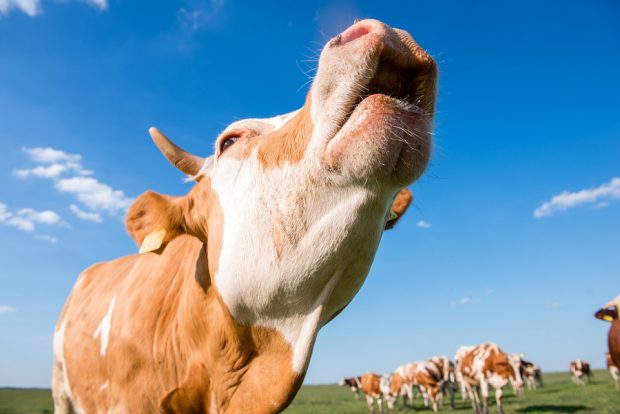 Since 2008, Square Cow Movers has grown by leaps and bounds (yep, imagine boxy cows nimbly jumping up the side of mountain). A big part of that explosive growth comes directly from the incredible generosity of our customers to help us spread the word about Square Cow Movers to friends, family and even complete strangers.
Folks ask us, "We love you guys! How can we help you?" and our response has always been, "Please tell everyone you know and everyone you don't about us. Please get on Yelp, Facebook, Twitter, Google and any other platform you frequent and let them know how we did." Whenever anyone is considering hiring a moving company, of course we want to be top of mind. But over the years, it's become more than that. When people think of moving, when they think about that next lateral transition, we want them to smile. We want them to say MOO!
Moving is always going to be stressful, no matter what. We get that. But if our brand can help folks establish a positive perspective on life, then we are going to do everything in our power to expand on that positive perspective. The "Just Say Moo" campaign is a simple, yet powerful, way for us to inject a little fun into the idea of moving, while staying top of mind for folks from one move to the next.
How Does It Work?
Really, it's pretty simple. You see a truck or hear the word move, you say "Moo!" That's all we ask.
It's a fun game to play with the kids in the car on your way to little league or ballet. Turn it into a less-vicious form of slug bug—keep a tally system with the kids with a reward if they hit a certain number. If you beat them to the punch (not a literal punch, we don't condone that at all) then subtract one from their tally.
If you want to take it a step further, we would love for you to post pics of our trucks on social media with the word "Moo!" Of course, please never do this while driving, as that's both silly and unsafe. You could also have a "Moo!" sign and take selfies with it and share with us. We simply want to see you living life and mooving into the next great adventure.
Moving is an adventure, even if it can be stressful and scary at times. Instead of letting it overwhelm you, let's make it fun and maybe even funny. If you find yourself getting down, depressed, worried or nervous about where life is taking you next, just remember to say, "Moo!" We all move through life, why not have fun with it!
Original Source: https://squarecowmovers.com/say-moo-tell-others-square-cow-moovers/