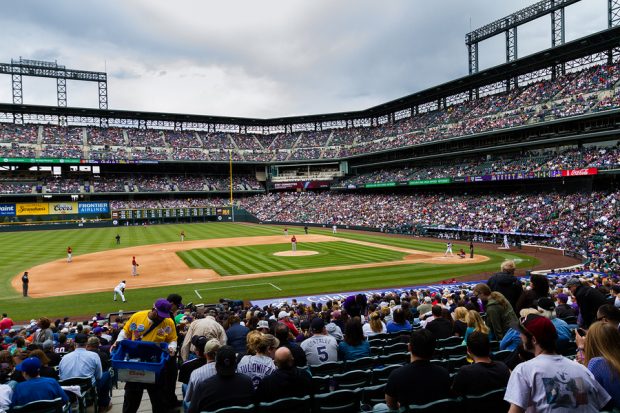 Are you moving to Denver? Setting down roots in a new city is never easy, but it's certainly easier with friends. Here are some of our top suggestions for places where newcomers can make friends in Denver.
Find Other Sports Fans
Maybe it's because sports inherently involve teamwork, but athletics have a unique way of bringing people together. Sharing the love for a specific team, school or type of sport is an immediate relationship builder. Of course, in Denver, you can meet a lot of people by simply being a Broncos fan.
The city is also home to the:
Colorado Rockies (Major League Baseball)
Denver Nuggets (National Basketball Association)
Colorado Avalanche (National Hockey League)
Colorado Rapids (Major League Soccer)
The Colorado Mammoth (National Lacrosse League)
Sports leagues are another great way to make a connection with other Denver locals. There are a number of leagues you can join, but Sports Monster is one of the most popular organizations. They have 11 sports to try, including unique options like broomball.
Brewery Tastings and Events
It's no secret that Denver is a city for craft beer lovers. There are over 50 breweries in the city with beer on tap. Each one offers something unique, and we're not just talking about the great beer.
The local watering holes offer microbrewery tours, tastings, live music, book readings and countless other special events. Ratio Beerworks, known for its jam-packed calendar, is quickly becoming a brewery hot spot in Denver. Locals are often thrilled to be able to share their craft brew passion with newcomers, which makes Denver microbreweries some of the best places to make new friends. The Great American Beer Festival in October is another opportunity to meet fellow beer enthusiasts from around the world.
Are you more into vino than craft brew? There are local vineyards around the city and plenty of wine bars within Denver to keep your calendar full. Wine lovers who are new to Denver would love The Infinite Monkey Theorem. Their slogan "back alley winemaking at its finest" says it all.
Make Friends With Man's Best Friend
Having a dog is actually a great way to meet human beings. In fact, studies have shown that dogs facilitate interaction and communication among people. So it's no surprise to hear that the sociable city of Denver is dog-friendly.
You can take your furry friend with you all over Denver. The Watering Bowl, a family friendly tavern with a dog park is a local favorite . When it's time to run wild, your pooch can help you meet other dog owners at Stapleton Off Leash Dog Park, Railyard Dog Park or one of the other 20 dog parks in the Denver area.
MEETinDENVER
Fortunately, there are a lot of new people trying to make friends in Denver. In 2015 alone, the population increased by 18,582, largely because of migration to the city. MEETinDENVER is a resource for all the new residents that are looking for an event to attend.
The no-frills website maintains a running list of upcoming events throughout the city. It's a great place to find something to do on any day of the week.
Meetup.com
Many major cities have Meetup.com groups for every interest under the sun, and that includes Denver. You can find professional groups that offer networking opportunities, groups for specific neighborhoods and even social shopping meetups. You can combine your love of dogs and beer by joining the other 4,000+ members of the Denver Doggie Happy Hour group. If you somehow can't find your tribe, then you can always start a meetup of your own.
Square Cow Movers is a friendly Denver moving company that eases the stress of relocating. Our moving bovines are well acquainted with every square foot in the Mile High City. We'll handle the work so you can socialize with your new friends!
Original Source: https://squarecowmovers.com/places-make-friends-youre-new-denver/