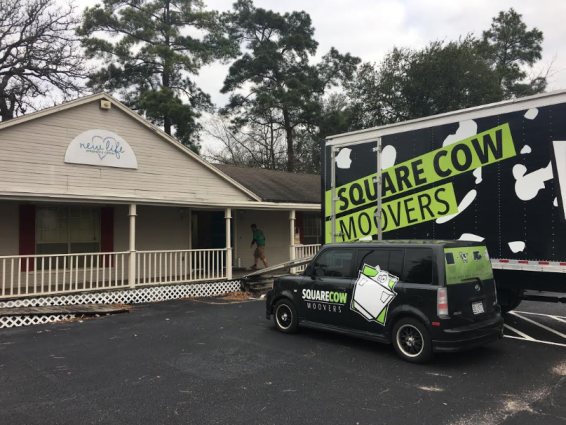 New Life Adoptions is a Houston-based nonprofit and child-placing agency licensed by the State of Texas. Our herd had the unique opportunity to support a cause close to our hearts (adoption) by donating moving labor to help move the New Life Adoptions office. Adoption is special to our herd because two of Wayne Lombard's thirteen grandchildren are adopted. One of those children is Derek Mills's daughter, Ava Mei. Wayne Lombard and Derek Mills are co-owners of Square Cow Movers along with Wade Lombard.
New Life Adoptions provides life-affirming alternatives and practical assistance to women and families facing unintended pregnancies and offers free guidance, education and adoption options. We love being able to make a difference in the communities we serve, especially when we can use our moving expertise to help an amazing organization like New Life Adoptions continue to do great work.
The New Life Adoptions move took place on January 9, 2017. After the move, New Life Adoptions Outreach & Education Coordinator, Rachel Wimmer said, "Everything was GREAT! I keep saying thank you but that doesn't seem to be enough. We [New Life Adoptions] are SO appreciative. The guys were fast and very polite. They did a very quick job."
Our goal is to treat every move with respect. It was our great pleasure to extend a helping hoof to a local nonprofit. Moving a nonprofit or commercial space is a little different from a residential move. Houston-area managers Chris Kersey and Mac Garcia oversaw the New Life Adoptions move and answered a few questions about the process.
How is moving a nonprofit / office different from other moves?
SCM: Helping a nonprofit provides a great opportunity to serve others and New Life Adoptions was special because we were able to help an organization that places children in loving homes. This made us very eager to participate.
Did the client have any unique needs when it came to moving locations?
SCM: New Life Adoptions was very organized and even took the time to label everything. They requested certain items to be loaded first so that the items would be unloaded last.
What was your favorite part of working with New Life Adoptions?
SCM: They were super nice and were very appreciative of the work donated.
What advice would you give to an office or nonprofit that is preparing to move?
SCM: Labeling really helps in these types of moves.
We wish New Life Adoptions the best of luck in their new location and hope they will be able to serve even more families and children!
Original Source: https://squarecowmovers.com/new-life-adoptions-moove/