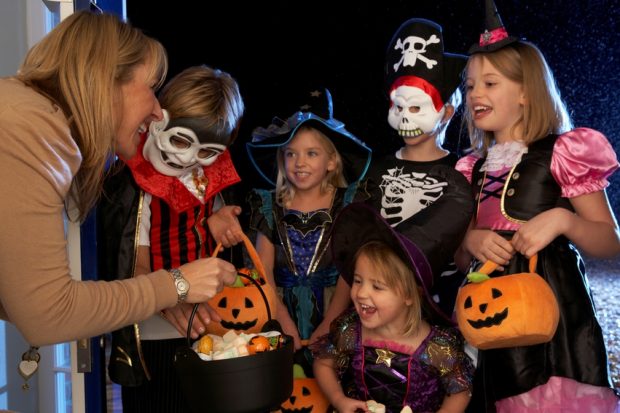 Austin is the home base for the Square Cow Movers founding team and their families. As such, we know this city like the back of our hooves. Never has that knowledge come in handier than Halloween.
Being that we're trick-or-treating parents ourselves, we know how important it is to find the best neighborhoods. By best neighborhoods we mean:
Safe
High percentage of participating neighbors
Quality wrapped candy
Great decorations
Closes up shop at a decent hour
Light on the tricks part
Neighborhoods that hit all of those high notes make the holiday more enjoyable for kids and parents. Based on those parameters, here are our top picks for the best Austin neighborhoods for trick-or-treating.
Steiner Ranch
This is our regular stomping grounds and we know it well. We'd recommend trick-or-treating in the Steiner Ranch area to anyone. The neighborhood is somewhat secluded and far away from main roads with traffic, which makes it safe. There are also many homes in the area that you could spend the entire evening without ever leaving Steiner Ranch.
Travis Heights
If you're going to trick-or-treat near downtown Travis Heights is a prime neighborhood. It's small and surprisingly quiet for how close it is to the inner city. There are also more families and older couples that are likely to be handing out premium candy.
Bee Cave Area
The app Nextdoor decided to figure out which Austin neighborhoods had the highest volume of Halloween participants. In other words, they wanted to know which neighborhoods you would score the most candy in. The top two neighborhoods, Highland Lakes and Canyonwood respectively, are far west of downtown in the Bee Cave area.
Clarksville
It's one of the oldest neighborhoods in Austin, which naturally makes Clarksville a great pick for Halloween. The area is also very affluent and home to a lot of artistic types. It's the perfect combination for an hour or two of trick-or-treating and admiring beautiful architecture.
Rosedale
A few years ago Zillow crunched a lot of numbers to determine the top five Austin neighborhoods for trick-or-treating based on safety, walkability and candy. Rosedale came in at number three and it's still a Halloween hotspot. Rosedale is a festive neighborhood just north of downtown that's also known for it's extravagant Christmas displays.
Allandale / Crestview
These two neighborhoods sit side-by-side in north central Austin. The neighborhood associations help keep this area safe and attractive year round, and Halloween is no exception.
Villages of Western Oaks
Representing southwest Austin is the Villages of Western Oaks neighborhood. If you're looking for an energetic, fun atmosphere then this is it. There are tons of kids and families hanging out and enjoying the holiday.
Circle C
Just south of the Villages of Western Oaks is the even more populated Circle C neighborhood. There are hundreds of homes, many of which go all out for Halloween. It's like Steiner Ranch in that you can spend the entire evening trick-or-treating without leaving the area.
Avery Ranch
Avery Ranch is the north Austin equivalent of Circle C. Many of the homes are tastefully decorated and the treats are just as good.
Bouldin
Directly southwest of downtown Austin sits Bouldin, one of the most well established neighborhoods south of the Colorado River. It's often cited as one of the best trick-or-treating neighborhoods in the city.
Need to make a move in Austin before the Halloween holiday? Give us a call today to schedule one of our frighteningly fast moving teams to get you set up before the trick-or-treaters arrive. You can also use the online form to get an instant moving quote!
Original Source: https://squarecowmovers.com/neighborhoods-best-trick-treating-austin/