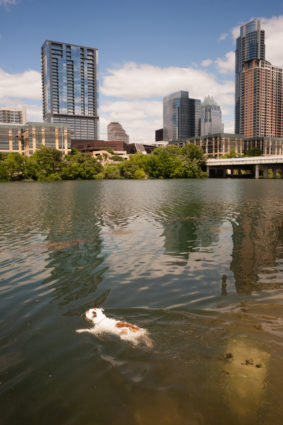 Relocating to Austin means learning how to navigate a city that's always on the move. Road construction is constant, I-35 is infamous and gas-free transportation is a way of life for many residents.
If you're new to the capital city, these tips will help you navigate your way around Austin while you get a lay of the land.
Tip #1 – Avoid I-35 at All Costs During Rush Hour(s)
The cardinal rule of driving in Austin is the avoid I-35 at all costs between the hours of 7am-10am and 4pm-7pm. While you're at it try to also avoid the stretch of MoPac that runs parallel to downtown, Hwy 290 around the southern portion of MoPac and northwest Highway 183. During rush hour, traffic can slow to a crawl for miles in these areas.
Tip #2 – During Festivals Forget About Driving Around Downtown
Austin is a festival hot spot. SXSW, ACL and Comic Con are just a few of the high-profile festivals that bring tens of thousands of tourists to the city. All of the action tends to congregate downtown, which is why locals avoid driving there during events. The streets will be congested with drivers that don't know which direction to go (see more below) and parking will be non-existent.
Now that Lyft and Uber are back in operation, you're better off going that route.
Tip #3 – Downtown is a Grid of One-Way Streets
Austin's downtown is laid out in a grid of one-way streets. Over the years engineers have learned that one-way streets can complicate routes. Something you'll quickly learn while driving down Sixth Street.
In the last few years some of the one-ways have been converted into two-way streets as a part of Austin's Great Streets Master Plan. Sections of Brazos, Colorado and Fifth Street are all either converted or in the process, but there are still plenty of roads where you can only go one direction.
Tip #4 – Lots of Roads Have More Than One Name
Don't be surprised if the road you're on suddenly has a different name. Austin roads are notorious of having multiple monikers. The city is so well known for its multi-named streets Trip Savvy created a cheat sheetwith the names of the most traveled roads.
Tip #5 – Austin is Big on Biking
For ages Austin has been at the forefront of alternative transportation, and no mode of transport rivals the bike. Whether you like to hit trails or take to the streets, just about everyone owns a bike. The city has also invested heavily in making the roads more bike-friendly. If you live near downtown consider biking rather than driving.
Tip #6 – Town Lake Trail is a Road-Free Way to Get Around Downtown
If you're looking for a way to get around downtown without battling traffic take to the trail. Town Lake Trail that is – also known as the Ann and Roy Butler Hike and Bike Trail. We obviously like giving things multiple names in this town.
Town Lake Trail is a long oval loop that circles around both sides of Lady Bird Lake from west of MoPac to Pleasant Valley Road a few miles east of downtown. There's about 10 miles of trail total that can help people on foot or two wheels get to many of the city's hot spots.
Tip #7 – Car2Go Allows You to Drive Without Owning a Car
Did you downsize your car collection before moving to Austin? No problem! Austin was one of the first cities to welcome the original carsharing company Car2Go. Originally, the fleet consisted of pint-sized blue and white Smart cars. As of this year, Car2Go is stepping things up for their discerning clients by offering members the opportunity to take a spin in a Mercedes Benz.
Bonus: There are some parking spots downtown that are reserved for Car2Go vehicles.
Need help getting everything to your new Austin home? Square Cow Movers got its start in Austin, and we know this city like the back of our hoof. We take the back ways, detours and insider routes only the locals know about. Call or fill out the online form to learn more and get an instant moving quote!
Original Source: https://squarecowmovers.com/navigating-moving-tourist-city-austin-tx-edition/