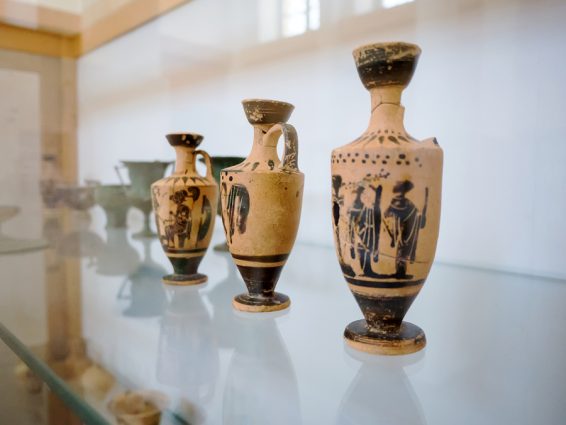 The short answer to the question in the title is – very, very carefully. Since exhibitions frequently change, museums have to transport a lot of precious, culturally important items. In addition to being priceless artifacts, many museum pieces are extremely delicate and don't fit in a standard packing box. Moving any type of artifact is a massive undertaking that requires multiple moving experts.
Some of the same techniques and moving tricks that are used by museums can help homeowners that have to move artwork, antiques, family heirlooms and other expensive items. Below, you'll find a quick rundown of what museums must consider when they're moving artifacts.
Careful Climate Control
In his book The Museum Environment Garry Thomson wrote "Conservation… has two aspects: firstly the control of the environment to minimize the decay of artifacts and materials; and, secondly, their treatment to arrest further decay and to stabilize them where possible against deterioration." When you're handling items that are decades, hundreds or thousands of years old climate control is an absolute must. Even short exposure to adverse climate conditions can permanently damage some delicate antiques.
Moisture is the biggest cause of weather damage to artifacts. The slightest bit of humidity can damage items made of plant and animal materials. If the relative humidity is off it can also increase the chance of mildew and microbial growth.
Temperature is also a concern. Extreme cold and hot temperatures could compromise some items. Moving in the spring or fall is a preferred time in some areas since the weather is usually more temperate. The ideal temperature for many artifacts is 65 degrees Fahrenheit.
Climate has to be controlled at every stage, including short-term storage. If the truck containing the piece isn't insulated during transport, consider how it can be packaged to provide extra insulation. Moving blankets are an excellent way to provide extra padding and insulation.
Give Items Plenty of Space
Packing strategically is important anytime you move, but for museum quality pieces ample space is often needed. Instead of cramming everything in together like sardines to save space, heirlooms, artifacts and artwork may actually benefit from extra space.
If there's any chance that friction or contact could damage a museum piece it's placed in a crate or special packaging. Museums have even had to construct mounts, trays and supports to stabilize artifacts before they're moved. When that's not possible, the item is adequately secured in place and given plenty of room in the moving truck.
Special Packaging for Documents
Even the documentation that authenticates a historical artifact or art piece is a vital item that has to be handled and packed with care. When you're moving files moisture is again a top concern, but physical damage can also easily occur if documents aren't packaged appropriately.
File boxes are designed to securely hold thousands of letter or legal size documents. File folders can also be used in the boxes to keep documents in order without causing any damage.
Limit Light and UV Exposure
Some artifacts are so fragile even light can cause damage. High levels of visible and ultraviolet (UV) light can degrade many materials, especially if they're aged. Sensitive items occasionally have to be completely covered to eliminate any light exposure during transport. It may also be necessary to keep them in a windowless unit while stored.
Square Cow Movers is experienced at moving pianos, artwork, antique furniture and even custom-made 12' doors. If you need the help of professional movers that know how to handle expensive and irreplaceable items, give us a call!
Original Source: https://squarecowmovers.com/museums-move-artifacts/