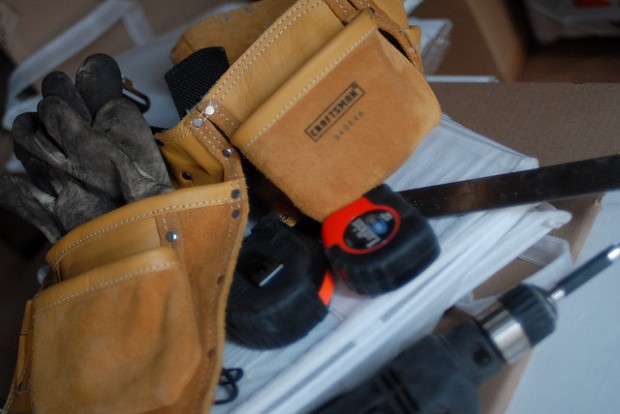 In the previous post we discussed what to consider when deciding whether it's best to make a move or a remodel, and we covered exterior projects in particular. Now we're going to turn our attention to the interior of the home.
When remodeling the interior may be the way to go:
You like to put your personal touch on things.
You can handle the chaos and commotion that comes with remodeling.
Your home meets your basic living needs.
When interior remodeling is more of a hassle than moving:
The entire configuration isn't ideal.
You're looking for features that are near impossible to fix, such as vaulted ceilings.
The remodeling project would cost far more than the value it adds to your property.
You don't have the cash upfront for needed repairs, but selling your home would give you a nice down payment.
You need substantially more space.
Interior Remodels That Are Worth Making Instead of Moving
Flooring Fixes
Replacing carpet with tile or wood will be something that you can enjoy and increases the value of your home at the same time. Local lumber experts like Timbertown Austin give homes a serious facelift by simply changing what's underfoot. While less expensive options like bamboo and faux materials have gained traction in the market, hardwood floors have a longer lifespan and universal appeal.
Redoing the floors with wood can have a serious return on investment and greatly increase the appeal, but the one downside of doing this in a lived-in home is moving everything in the interim. Be prepared for disarray for at least several days in whatever room is getting the new flooring.
Updating the Décor
Nothing is easier and makes as strong an impact as repainting the interior of a home. It's quite possibly the best return on investment that you'll get when it comes to interior remodeling.
Additions to a Small Home
If you've got one of the smallest homes on the block increasing the square footage can be a serious value booster. This is especially true if you're adding a bedroom or bathroom to the home. While it won't be an easy or cheap remodeling project by any means, if everything else is perfect about the home and neighborhood it's worth considering.
Finishing Out an Attic
An attic addition is an easy way to add much needed space and increase your home's value. If you don't need the storage space an attic finish out is the perfect way to add a bedroom or office onto a home without having to modify the actual structure.
Interior Remodels That Could Cost More Than a Move
Any Additions to a Sizeable Home
If you've already got one of the biggest homes on the block but you still need more room, instead of sinking money into more space it's probably better to save it for a down payment or closing costs on a new home. Adding the square footage could fix issues in the short term, but in the long term you may not be able to recoup the costs. For such an expensive and time-consuming remodel if you can't substantially increase the home's value it may be better to find something else that can better suit your needs.
A Complete Kitchen Rehaul
Back pre-recession when financing flowed freely and there was less questioning of how a home would appreciate many homeowners sunk huge sums of money into complete kitchen rehauls. While the kitchen is an area of the home that is big for buyers and homeowners alike, gutting everything may not be worth it. If you want a gourmet kitchen with all the bells and whistles there's a good chance you'll get better (and instant) value by finding a home with a kitchen that has already been updated. On the flip side, a minor kitchen remodel is definitely something worth undertaking if you're happy with the rest of your home.
Master Suite Addition
New homes reflect what modern-day homeowners want, which is why almost all of them now have a master suite with a private master bath and walk-in closet. While the thought of having your own retreat is highly appealing, in many instances you're better off finding a new home rather than modifying your current property. Many areas have lots of homes on the market that already have a master suite and it's a major expense to incur for something that isn't an absolute necessity.
As you can see the question of whether to move or remodel often comes down to the return on your investment. But other key factors such as the neighborhood, long-term livability and your attachment to the home also comes into play. If you do decide it's time to make a move to a home that better suits your needs give Square Cow Movers a call. We're professionals that are sensitive to the fact that a move is a big event for any family.
Image Source: flickr.com/photos/stinkytofu/1564214449
Original Source: https://squarecowmovers.com/moving-vs-remodeling-making-the-choice-when-the-interior-needs-work/