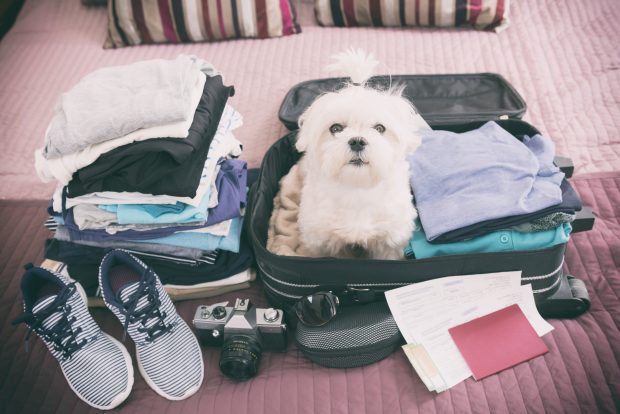 Moving is a big deal for the whole family, especially, when one of your family members is an animal (like a dog or cat – cows don't count). If your new home is in another state or across the country, flying may be the best way to travel. Flying with pets requires advance planning and careful consideration. These tips will help you travel safely by air with your dog or cat.
Cargo or Cabin?
Small dogs and cats can travel in the cabin with you and other passengers. Your pet must fly in a carrier that fits underneath the seat in front of you. Each airline will have different rules, but small dogs must generally be under a certain weight. The carrier must also meet specific dimensions. Many airlines do not accept brachycephalic or snub-nosed dogs like Pugs, Shih Tzus, Lhasa Apsos or Bulldogs of any "mix" as checked luggage because their short snouts make them prone to breathing problems. The altitude can make it difficult for these breeds to breathe. There are a few brachycephalic cat breeds that are not allowed as cargo either like Persian or Himalayan cats. If you will be "carrying on" your dog or cat, you will be required to remove your pet from its carrier as you go through security. You can read more about the process of taking your pet through security on the Transportation Security Administration website.
Larger dogs must travel as cargo in the hold of the plane. Pay attention to which airline you book tickets on; for instance, Southwest Airlines does not allow any pets in the cargo area. You can either check your pet as luggage on the same flight you will be on or use a special shipping service for your pet. Nonstop flights are best when checking your pet, so that your pet doesn't have to make any connections. Pay attention to the time of year that you are traveling and the cities that are a part of your travel itinerary. If temperatures become too hot or too cold, animals are not permitted in the cargo area for their safety. Make provisions with your airline far in advance because there are restrictions on the number of animals that may travel in the cabin and in the cargo area.
There are some exceptions to traveling with an animal. If your dog is a registered service dog or your pet is registered as an emotional support animal, certain restrictions may not apply.
Consult a Vet
Before embarking on any journey, schedule a check-up with your vet to ensure that your pet is fit to fly. Additionally, some states and airlines may require a health certificate for your pet. If your dog or cat is prone to travel anxiety, your vet can recommend medication. Do not medicate your pet unless prescribed by your veterinarian.
Get the Right Gear
Carriers must be big enough to allow the animal to stand, turn around and lie down comfortably. Hard-sided carriers are a must for pets traveling in cargo. There are more options for pets traveling as carry-on luggage, but the carrier must fit under the seat. All carriers should be well ventilated. Pets will travel more comfortably if they are already accustomed to their carrier. Leave your pet's carrier out in your home about a month before travel, so your pet can become familiar with it.
Read more about each airlines' specific policies for traveling with pets below!
American Airlines: https://www.aa.com/i18n/travel-info/special-assistance/pets.jsp
Delta: http://www.delta.com/content/www/en_US/traveling-with-us/special-travel-needs/pets/pet-travel-options.html
Southwest: https://www.southwest.com/html/generated/help/faqs/pets_faq.html
United: https://www.united.com/web/en-US/content/travel/animals/default.aspx
Original Source: https://squarecowmovers.com/moving-tips-flying-pets/