So you got that big promotion that puts you ahead of the herd or the transfer you've been waiting for at work.  Congratulation!  Now comes the less than glamorous part – the move.  If you're lucky your company will provide relocation services to help with the laundry list of move to-dos that are already starting to pile up.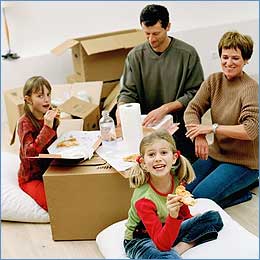 Relocation services can be handled either internally, usually through the human resources department, or outsourced to a third party company.  These professionals are experienced in helping make an employee's move as smooth as possible.  They can handle everything from finding you a new home to helping your spouse find a new job.
First Things First, Ask About Relocation Services
You can't assume that your company offers relocation services or that they will automatically handle things for you if they do.  If you're unsure whether or not relocation services are available take a trip to the HR department and ask.
Secondly, the extent of relocation services varies from company to company.  So, get HR to fill you in on all the details.  Who handles the relocation services?  Is it simply discounts for using specific vendors, or are services paid for by the company?  Where can you learn more about the services offered?
Fill Them in on Your Family Situation
It may be your job, but a move affects the entire family.  Relocation service providers can help make the transition easier on everyone by:
Finding the best schools for your kids
Helping spouses find jobs
Suggesting fun family-oriented entertainment in your new town
Providing information on crime statistics and safety
Locating local churches
The relocation company can customize the services to your unique family needs, however, they have to know about your family in order to do so.
See If You Have the Option to Choose
Some relocation services handle everything for you.  They vet the vendors, make all the arrangements, handle all the back and forth, etc.  You just have to stay in the loop on when everything is happening – which is fine for some people.
Others may prefer to do some of the decision-making on their own.  Maybe you've used a reputable Austin or Houston moving company like Square Cow Movers before and prefer to use a company you know you can trust with your stuff.  Or you know a realtor in the city you're moving to and would rather work with them than the one that's been lined up.  If you're choosy about who will help you move, speak up and see if you can select the vendors.
A lot of times the relocation company will go with a vendor that they already have a relationship with and/or get discounted rates from.  But that doesn't mean that they aren't open to using someone new.  At the end of the day, it is your move, the relocation company is simply there to make the process less stressful.
Original Source: https://squarecowmovers.com/how-to-make-the-most-of-company-relocation-services
Image Source: dottyschloss