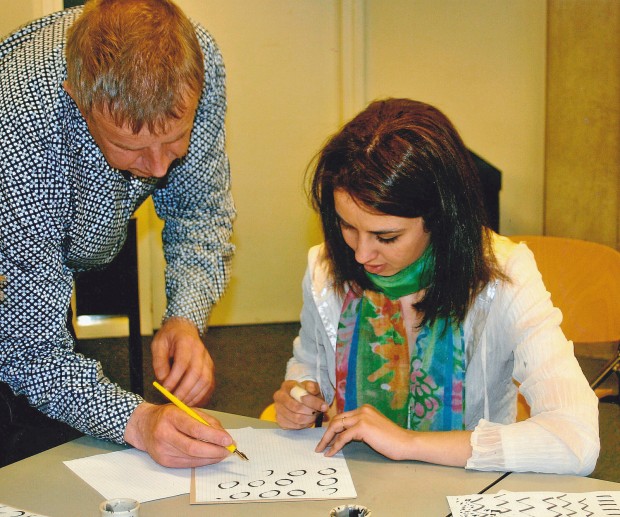 Teachers are everyday heroes that help us achieve our dreams.  They can be traditional teachers in the classroom, parents or mentors that we seek out for a specific purpose.  All kinds of teachers have helped the guys at Square Cow Movers create a successful business that's centered around learning.
Now they're giving back.  Every year owner Wade Lombard makes an annual trip to Lake Travis High School to discuss what it's like owning and running a business.  The students get a firsthand account of what it takes to be a small business owner and how teachers can be a valuable support system along the way.
From Calf in the Classroom to Head of the Herd
After helping Career Tech Education teacher Clarissa Cullison make a move and telling her the Square Cow Movers story, Ms. Cullison invited Wade to come speak at one of her classes.  As a Junior Chamber of Commerce Sponsor she knew someone with his insight and passion would make a positive impression on her students.  Ms. Cullison emphasized the importance of discussing entrepreneurship with kids early on saying,  "This is the most important time in their life to explore their interests and pursue the right path to reach their goals."  Everyday successful entrepreneurs like Wade show the students that owning a business of their own is achievable.
After five years of annual trips to Lake Travis High School it's clear that Wade's discussions have made a difference.  "They are like sponges when he speaks to them," says Ms. Cullison.  "They listen and want to know more.  Wade inspires them to want to be successful.  He teaches them by example that all things are possible."  But she adds that Wade also stresses that it takes hard work, determination, perseverance and an honest professional approach to treating customers with the utmost respect.
One of the key lessons that Wade imparts is that your customers are your best teachers.  If you listen to what they have to say and apply what they tell you you're much more likely to be successful.  Ms. Cullison is so impressed with the professionalism and care of Square Cow Movers she has now used them on four separate occasions.  She noted that every step of the way they kept in touch, listening to her needs and even following up after the move was done to ensure her experience had been a good one.
Learning from the mistakes of others is another important piece of wisdom that Wade imparts on the students.  Wade along with his co-owner brothers Wayne and Derek (Wade's Father and Brother-in-Law) discovered a lot by making their own move to Austin, Texas.  It was a trying experience that proved there were a lot of improvements that could be made within the moving industry.  The guys put their heads together, did a lot of market research and thought about all the ways their own move could have been better.  From the shortcomings of the other companies came the core philosophies that set Square Cow Movers apart.
In the end, says Ms. Cullison, the kids really respond to Wade's humble, honest advice.  They are inspired to dream big, but are better prepared to put in the work that's needed to make a business successful, because they now know failure and persistence are part of the process.  One class at a time, Square Cow Movers is honoring all their teachers by helping young calves strike out on their own.
Image Source: http://commons.wikimedia.org/wiki/File:Teacher_and_a_young_woman_learning_calligraphy.jpg
Original Source: https://squarecowmovers.com/how-teachers-have-helped-shape-square-cow-movers/