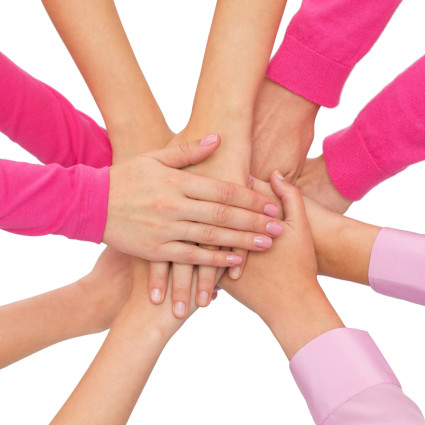 A little while ago, the local Austin chapter of the Susan G. Komen foundation contacted Square Cow Movers for a quote on an upcoming move.  We saw a great opportunity to extend our efforts towards breast cancer awareness and a cure by serving the local branch. Square Cow Movers will move the Austin branch of Susan G. Komen free of charge.  Our family has a special connection to raising awareness and finding a cure.  The mission of this nonprofit is to save lives and end breast cancer forever.  We love to support great causes and local nonprofits when we can.
Our contact at Susan G. Komen, Nique Mayo, was kind enough to answer a few questions about how a nonprofit can prepare for a move.  We hope these tips can help other organizations and offices plan for a  move.
How did your organization select a moving company?
NM: Our Director of Operations contacted 3-4 moving companies to get a quote for the upcoming move.  Not only did Square Cow have the best rates, but it worked out that they too have a passion to end breast cancer forever!
Do you have any advice for other organizations or offices when selecting a moving company?
NM: Selecting someone who can provide you with reliable service while meeting your price point is key.  As a nonprofit, it's important to look for those that share your passion and understand the need for keeping costs low while not sacrificing the quality.
How far out did you begin planning the move?
NM: We began the planning process in the Fall of 2015, as we knew our lease was ending at the end of January 2016.
How has preparing for a move affected your normal operations?
NM: It has been a challenge in finding balance between office productivity and moving prep, as well as maintaining minimal disruption.  Day to day operations have still gone on without a hitch, but there has been some extra maneuvering around piles and boxes and searches for items that have already been packed!
What advice would you give to other organizations on balancing normal operations and moving preparations?
NM: Devote one day per week to purging and packing for a month leading up to the move.  Designate a specific area to each employee, so that you can divide and conquer.  Encourage everyone to dress in jeans and t-shirts, so that everyone feels comfortable getting their hands dirty.
From the client's perspective, how is a nonprofit / office move different from a residential move?
NM: An office move is much different, as there are multiple stakeholders to take into consideration.  Not only do you have to find, decorate, and settle into a place that works well for your staff, but you must also consider board members, volunteers, and event committee chairs.  With an office move, you truly have to keep the business's long-term goals in mind (outside of your current interests and preferences) as the office will need to serve a purpose for years to come, oftentimes outlasting its original tenants.
Original Source: https://squarecowmovers.com/how-a-nonprofit-office-can-prepare-for-a-move/