At the 2014 Houston Boat Show, live sharks will greet attendees – but don't worry, they will be behind glass. We also had a stern talk with the sharks and we expect that they will be on their best behavior.
The 59th Annual Houston International Boat, Sport and Travel Show is the largest indoor boat show on the Gulf Coast. Over 1,000 boats will be displayed at the show, including: powerboats, fishing boats, personal watercrafts and luxury cruisers.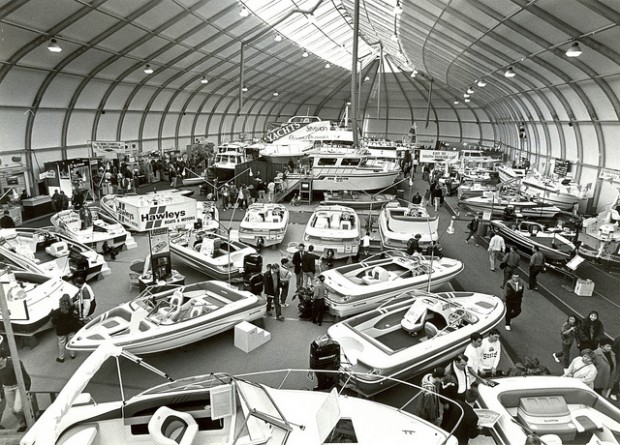 If you prefer land over water (no judgement here, we will take a grassy field over the ocean any day), the show will also feature campers, travel trailers and outdoor accessories like sound systems and GPS systems. Accessories for those who love the water consist of wakeboards, tubes, towing equipment, and fishing and wakeboard towers. If it involves the outdoors, you can find it at the Houston Boat show, from camping equipment to patio furniture to hot tubs, golf carts and ATVs.
There will also be a wide range of activities and entertainment for the whole family at the Houston Boat Show. In addition to the Haii Live Shark Encounter, attendees can participate in seminars and fishing demonstrations at the 5,000 gallon Bass Tub aquarium. King Robota, an 8-foot-tall singing, dancing and joke-telling robot will be performing "the world's greatest robot show" at the Houston Boat Show. The other celebrity event at the Houston Boat Show is a meet and greet with Swamp People's T-Roy Broussard and Harlan Hatcher. Antique and classic boats will also be on display, so your family can relive the golden age of boating!
Introduce your little ones to fishing at the Fish-o-Rama, where they can fish for rainbow trout. Kids also have the opportunity to participate in helping to put together two different boats, an 8-foot wooden dingy-style boat and a 1955 Evinrude 5 1/2 hp classic outboard motor. Bubble Runners, human-size hamster balls, will be back so that kids can roll, flip and spin on water without getting wet!
What: 59th Annual Houston International Boat, Sport and Travel Show
When: January 3-12, 2014
Where: Reliant Center
1 Reliant Park
Houston, TX 77054
Hours: Friday, January 10th 1:00 p.m.-9:00 p.m.
Saturday, January 11th 10:00 a.m.-8:00 p.m.
Sunday, January 12th 11:00 a.m.-5:00 p.m.
Admission: Adults – $10.00
Children ages 6-12 – $4.00
Children 5 and under – FREE
Parking: $10.00
Only cash will be accepted at the ticket window and for parking.
For more information: houstonboatshows.com/show-information
Image Source: www.flickr.com/photos/kingcounty/7544274538
Original Source: https://squarecowmovers.com/houston-boat-show