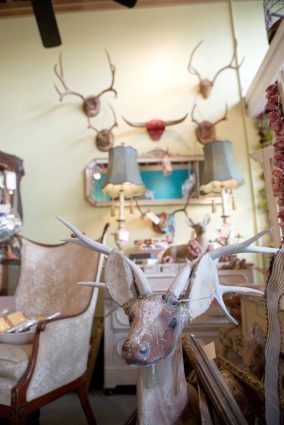 Moving to a new home gives people the opportunity to really size up bulky items like furniture. Do you really want to take up valuable space on the moving truck with a couch that has seen better days? Or your older sibling's dated dresser that was passed down during college?
The cost of replacing furniture makes many people hold on to pieces way longer than they want to. The solution – buy furniture at thrift stores after you move! We asked our team members and customers for a few tips on finding great thrift stores, and here are the top takeaways.
Tip #1 – Check Review Sites
Review sites have grown so large with user-generated content you can find mom and pop shops right alongside the big box stores. Try searching on Yelp using the search term, "thrift store" or "used furniture." On a company's review page scroll down to the bottom to see if there are additional reviews that aren't currently recommended. You can also look at pictures to get a better feel of the type of furniture they sell.
Tip #2 – Drive Around the Nice Areas of Town
When people donate to thrift stores like Goodwill they usually drop off items at the closest location. Thrift stores that are in the nice part of town are treasure troves of gently used furniture from high-end stores. You may end up finding furniture that's worth more than what you would typically pay for new items.
Tip #3 – Look for Thrift Stores That Specialize in Leather and Wood
The biggest concern with buying secondhand furniture is insects. Several years ago bed bugs became a problem in the northeast, and it spread from there. The easy way to avoid this issue is purchasing upholstery-free furniture. Pieces that are made of wood, leather and similar materials don't provide a place for bed bugs to hide, and funky odors won't be an issue either.
Tip #4 – Consider Office Furniture Warehouses
This tip is a no-brainer if you need furniture for your office, but you can also score cheap finds for other areas of the home too. A small conference table can easily double as a dining room table. Open storage cabinets are virtually the same thing as a bookshelf. Many office furniture warehouses have affordable used furniture, but you can also find deals on new furniture the business bought in bulk.
Tip #5 – Test Their Customer Service
The employees of a thrift store can make all the difference in the world. They can help you locate a specific type of furniture or tip you off when new items come into the store. Since thrift shopping is so hit or miss, having extra help from good employees is important. A great way to test a store's customer service is by giving them a call. How they answer the phone and address your questions will tell you everything you need to know.
Tip #6 – Consider Thrift Stores in Quaint Suburbs
If you're an urban dweller going just outside the city limits could expand your thrift store options. Small bedroom communities with rich histories usually have at least a few antique shops where you can find period piece furniture. Bonus: Shops in small towns often offer better deals than stores in the city center.
No matter how much furniture you own, Square Cow Movers can get it moved into your new home. We even offer specialized services like piano and pool table moving. Call us today or fill out the online form to get an instant moving quote!
Original Source: https://squarecowmovers.com/find-best-furniture-thrift-stores/