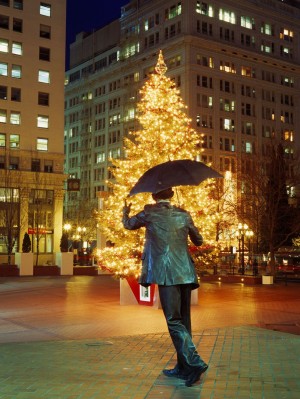 Living in a high rise can present unique opportunities to celebrate the holidays in ways you never did before. Location, sharing a building with other tenants and living where there is a dedicated staff can increase the holiday cheer.
Resident Parties and Charity Events
Check with the property manager to see if they are holding special holiday celebrations. Some properties also organize special charity or volunteer events during the holidays to either gather donated items, raise funds or simply bring awareness to a cause. It's an easy way to get involved and help out during the holiday season since your donations can be made right in your own building. Look for flyers on the door or email notifications with information on how to participate.
Almost all high rises organize some kind of holiday get together on the grounds. These parties are a great way to get to know your neighbors so make room for them on your calendar.
Organize a Decorating Contest
When you live in a neighborhood it's common for people to dress up the exterior of their homes. Just because you live in a high rise that doesn't mean you have to miss out on the holiday decorations. There are lots of ways you and your neighbors can get in the holiday decorating spirit, and a friendly contest is a fun way to get others involved. Ideas include:
Patio decorating
Front door decorating
Floor decorating (recognize the floor with the most impressive decorations overall)
Easy Access to Downtown Holiday Entertainment
Because many high rises are right downtown, many holiday attractions are within an easy walking distance. Don't be surprised if you end up getting out and seeing more than you did living in a suburb or a neighborhood further from the city center. Ask your property manager about the possibility of organizing group transport to and from events, particularly those that are a little farther away.
Downtown Holiday Attractions in Austin and Houston

Did you move into an Austin high rise? Is it your first holiday season living in downtown Houston? Below you'll find a list of holiday attractions that are happening downtown this year.
Downtown Austin Holiday Attractions
Zilker Holiday Tree
Zilker Trail of Lights
Capitol Tree lighting
New Years Eve celebration at Auditorium Shores
Whole Foods ice skating
Armadillo Christmas Bazaar
The Junior League A Christmas Affair event
Holiday Sing-a-long and Holiday Stroll
The Nutcracker Ballet
Luminations at the Lady Bird Johnson Wildflower Center
Downtown Houston Holiday Attractions
City Hall Menorah Lighting
Mayor's Holiday Celebration a city hall
Ice skating at The ICE rink
Discovery Green light display
Zoo Lights event
Total Jingle Bell Run and Walk
The Gingerbread Build-off
A Christmas Carol at the Wortham Theater Center
Tipping Staff and Holiday Gifts
Many residents wonder if they should provide a year-end tip or get a small gift for their building's staff members during the holidays. While this isn't required, it's always nice to show your appreciation, especially for staff members that help out on a regular basis. There's no set rule on how much to tip, and it can vary from one building to the next. If the management supplies a list of employees ask them for suggestions on what the typical tip amount is each year. However, don't feel pressure to tip more than you're comfortable or able to give.
Rather than taking the tip on yourself, you can organize a collection where each resident can chip in what they want to get the staff small gifts or holiday bonuses. Before doing so ask the management if they have already made arrangements to accept the tips.
If you're moving into a high rise this holiday season give Square Cow Movers a call or use our online form to receive a free moving quote!
Image Source: flickr.com/photos/mrlaugh
Original Source: https://squarecowmovers.com/enjoying-the-holidays-in-a-new-high-rise/