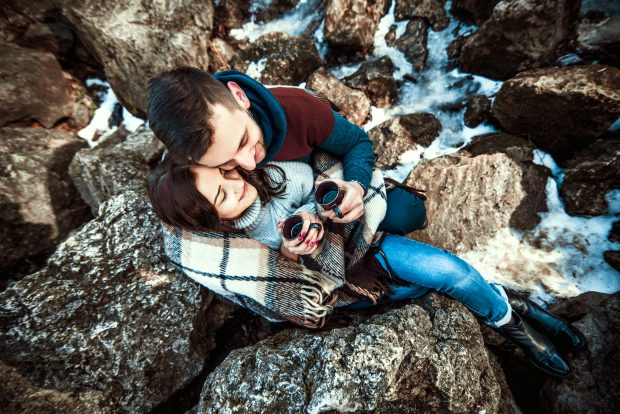 There's one holiday a year that celebrates the most powerful thing in this world – love. Of course, we're referring to Valentine's Day, which is just around the corner. Denver locals are known for being passionate people, and that might be why there are so many cool things to do to celebrate the holiday with someone special.
Each year many people opt for a traditional date, like dinner at Fruition. But if you couldn't get a table (they book up more than a month in advance) or you're looking for something different to do this year you're in luck. We've got Valentine's date ideas for every kind of couple, from outdoor enthusiasts to local-only foodies.
For Couples That Want to Get Back to Nature: Retreat to the Hot Springs
What's more romantic that soaking in your own private hot spring? There are dozens of hot springs you can visit across the state, but one of the most alluring is just a few hours from Denver. Mount Princeton Hot Springs in Nathrop has two big pools and a historic bathhouse. There are also 30 small creekside pools that provide an intimate setting for couples that want to relax and soak on their own. You can make it a day trip or reserve a modern cabin at the resort.
For Couples That Spend Time in the Kitchen: Cooking With Cupid Class
The Cook Street School of Culinary Arts is once again hosting their annual Cooking With Cupid classes. It's become one of the most popular Valentine's Day events in Denver. For $220, you and your sweetie will get a bottle of bubbly and learn how to whip up a holiday feast. The school's chefs will give each couple personal instruction so you can replicate the romantic meal at home.
For Rustic Loving Couples: Valentine's Day Dinner Sleigh Ride
If you're up for taking a romantic getaway and want to treat your date to a truly unique Valentines Day dinner, then book a reservation for a dinner sleigh ride with Telluride Sleighs. Their special adults-only Valentine's Day event is $280 per couple and features a special gourmet dinner and drink menu. A sleigh ride across the snow will bring guests to a historic sheep camp that serves as the dining venue. Once there guests will enjoy cocktails and a multi-course meal before taking a sleigh ride back to civilization.
For Couples That Love to Explore: Lantern Lit Tour at Cave of the Winds
There are so many natural wonders to explore in Colorado, but the lantern-lit tour at Cave of the Winds Mountain Park in Colorado Springs is one of the most romantic excursions you'll find. This tour ventures deep into the Manitou Grand Caverns where your only illumination is the lantern you hold. You'll be led through dark cave crevices that invite couples to huddle close together. Needless to say, you can probably sneak a Valentine's Day kiss among the ancient stalagmites without anyone noticing.
Tours start at 11am, 1pm and 3pm on Valentine's Day.
For Couples That Want to Stay In: Cook a Chef-Prepared Meal at Home
Even if you never leave home you can get a delicious taste of Denver cuisine this Valentine's Day. You can also test your inner chef the easy way with a prepared meal from Tony's Meats & Market. Pick your love's favorite bottle of wine and a freshly made Italian dish that can be warmed up in a matter of minutes. Add more epicurean delights with artisan cheeses and an indulgent treat from the bakery.
Square Cow Movers makes moving as easy as Tony's gourmet cooking at home. If you're planning to move to Denver around Valentine's Day we've got sweet deals you'll fall in love with. Call us today for an in-home estimate or use the online form to get an instant moving quote.
Original Source: https://squarecowmovers.com/best-valentines-date-ideas-denver/